News, Vision & Voice for the Advisory Community
The ambitious software effort shows signs of 13,000 user comments
November 11, 2010 — 8:10 AM UTC by Nevin Freeman
I first wrote about NetX360 when it was released in August of last year, and learned that it was a complete re-write of its predecessors.
Since then Pershing has successfully transitioned 96% of their advisors to the platform and made considerable upgrades along the way, improving workflow and expanding to mobile platforms. There are even plans in the works to create a marketplace for workflows, so advisors can share and sell their NetX360 automation checklists across firms.
| | |
| --- | --- |
| Release Date | August 2009 |
| Price | There is no charge to use NetX360, but third party app integration requires purchase of those apps |
| Main Competitors | Veo, PortfolioCenter, WealthCentral, StreetScape |
| User Base | About 105,000 users |
| Web or Desktop | Desktop, but with web version on the way |
| What does it do? | Workflow management, Trading, Rebalancing, Research |
Built-out
NetX360 hasn't been redesigned or massively altered, but has a definite "built-out" look since last year. The home page has more going on, with multiple sub-tabs, and the left navigation is now home to a host of task- and practice-management tools. The menues have been re-vamped so that sub-items aren't hidden from view any more, and the application-wide search feature was comprehensive and snappy.
These new touches (along with some others, mentioned below) give away the desktop trading and custodial application's heavy focus on workflow. According to Suresh Kumar, Managing Director and CIO of Pershing Advisor Solutions, NetX360 was built with David Allen's Getting Things Done philosophy in mind, and includes the ability to turn common workflows into checklists to make sure everything gets done right every time.
Workflow marketplace
But the most revolutionary part of NetX360 is still just over the horizon. Kumar explained that whenever Pershing holds its advisor board meetings, the advisors love to swap tips on topics like how to better leverage their custodial tech. "When we have these advisors all sitting down, they have no problem sharing [strategies and tips]," Kumar said.
So what's the logical thing to do? Let them share their routines and workflows via the software itself!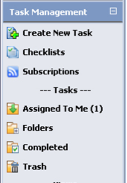 New sidebar includes task- and practice-
management sections
In an upcoming release, advisors will be able to share the automated workflows they create in a marketplace with advisors within their firm. Kumar hopes that this can be expanded to global sharing once regulatory issues are worked out, and that one day soon firms will even be able to sell these kinds of data to other firms through the system if they want to.
"If someone is interested in running a campaign on getting new clients in a particular way, and they don't mind sharing that [they will be able to share more than] just a brief description of what they do. It could actually be a query on our business intelligence data warehouse, [or a] a mail-merge or a template. To me that's when you get to see the power of how dramatically people can leverage each other and get the benefit of the platform."
Data-driven development
Along with those [approximately] 105,600 new users came about 13,000 feedback messages, and not all of them were positive. "Our users are not shy," Kumar said with a smile during our extended in-person demo of the software last week, and the comments on my previous review of the platform were in line with this statement. "I read every one of [the feedback messages]" he added, motioning to his BlackBerry, quite serious this time.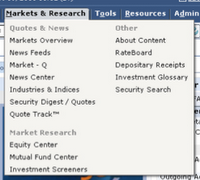 Mega-Menues show all options at once
instead of hiding them in multiple
layers
"When we build technology we do it with certain assumptions, and then you launch the product. And the more people use it the better the product becomes, because of all the feedback that you receive," Kumar said.
NetX360 also has a user action tracking system built in, so that the development team can see how users actually interact with the application. One handy way this system works is to track what users type in when searching for a help tutorial — if the tutorial doesn't exist, Pershing eventually sees that it was searched for and knows to add it.
But the analytics that Kumar and his team have access to go far beyond these help searches. They are able to see, for example, how often users find the features available via right-click menus (not as often as they had predicted when building the software) and make data-driven development decisions that wouldn't be possible if they only relied on direct user feedback.
Everything machine
Armed with these details, Pershing's US- and India-based development team has added or refined the following key features since launch:
Search: The application-wide search box is very impressive. Typing a query brings up any matching accounts, menue items, reports, securities, and so on. Think Google for your trading and accounting application — if you forget how to get somewhere, all you have to remember is the keyword that you want to see. "I don't think anybody else has anything close to that," said Kumar. "You could have a million accounts, which some of out customers do, and you could type [a query] in and it will be just as responsive.
Mega Menus: This is less of a technological feat, but I like it nonetheless. Instead of menus being designed hierarchically, users can switch to just having everything displayed in one giant list for each menu. Seems like quite a workflow momentum-saver.
Built-in CRM: The built-in version is just the basics, and is handy for those who don't want to deal with more complex products.
Many levels of integrations: Users can integrate many third-party applications, such as Outlook, Salesforce.com, MoneyGuidePro, NaviPlan, Black Diamond. These services are purchased separately.
Built in trading and rebalancing: We didn't have time to see these features, but they are core to the application.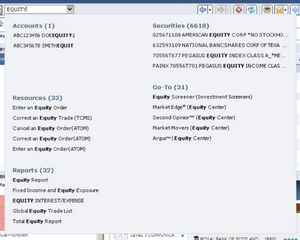 Application-wide search returns snappy results of
all types
In fact, it's hard to think of a feature they haven't added — after a year of upgrades, NetX360 is something of an everything machine. So many features make it hard to design a beautiful piece of software — and indeed it is no work of art. This approach often leads to clutter, but since so many of the features are geared toward navigating the gala of options I imagine users will be able to design workflows that work.
Mobile versions galore
NetX360 launched as a native Windows application, so I was surprised to learn that there are now also versions of NetX360 for iPhone, BlackBerry, and Windows Mobile, with versions for Android and iPad about to be added. TD Ameritrade has an iPad version of Veo in the works, but other than that I'm unaware of any other mobile versions of custodial platforms.
Reviews on the iPhone version, however, mention that the app is not as valuable as it would be if it allowed trading.
NetX360 is also being ported to run in a web browser, so that you will also be able to navigate to NetX360.com and get an experience similar to the desktop version.
Kumar explained that Pershing takes the standpoint of being agnostic to which platform its users prefer — he expects that only around 15% will be interested in the browser version since the desktop experience is faster, smoother in his opinion, but said that's enough to make it worth it. By sticking with the desktop approach for so long Pershing has been able to leverage operating system-level functionality like direct integration with other Windows applications such as Microsoft Outlook, and Kumar says that it will continue to build native apps for this reason, rather than going all-Web.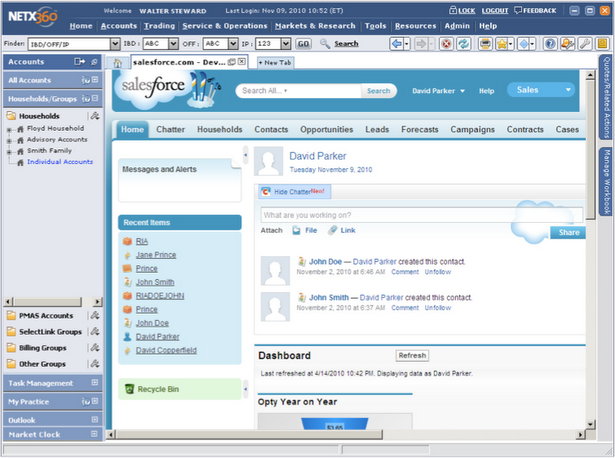 Third-party apps like salesforce.com can be
opened within tabs
Technical restraints
When I mentioned what I had written in the first review about how the limit to number of open tabs seemed annoying, Kumar gave an up-front answer: "What we're finding in the Windows environment is that the more tabs you have, the more resources it takes, so beyond a certain amount it starts slowing down."
He says Pershing is constantly pushing against technological constraints in order to better serve their users. From the user's (and journalist's) perspective things like limits on number of tabs are a no-brainer, but I got the sense this time around that Kumar and his team really are doing what they can to push the envelope.
In fact Pershing was in a similar resource-scarce situation right as the Internet was being established, Kumar told me. They wanted to deliver their application in the NetScape browser, but sending enough HTML for each page to look right would take forever. They ended up developing their own browser that caches the HTML itself and only sends the dynamic data back and forth to Pershing — the same type of system that NetX360 uses today.
Because of this browser-like desktop design, Pershing can update most parts of the NetX360 interface without requiring users to re-download anything. Although their addition of a fully-Web application comes later than their competitors, they have had many of the benefits all along. Now that normal browsers and Internet connections can handle large amounts of information for each page, it will be easier for Kumar and his team to mimc the NetX360 experience in any browser.
---
---
Share your thoughts and opinions with the author or other readers.
Mac User said:
December 16, 2010 — 3:44 AM UTC
Pershing said they were going to have the web based version out late summer 2010. For what ever reason that has come and go. I also hear that they have a beta version of Netx360 available for Mac. Anybody know anything more about if and when either of these solutions are going to be available?
---
---