News, Vision & Voice for the Advisory Community
Schwab's event has a personal touch to soften over-stimulation for a signature admixture
October 28, 2010 — 4:36 AM UTC by Tim Welsh, Sondra Harris and Elizabeth MacBride
Thanks to bloggers Tim Welsh principal of Nexus Strategy LLC of Larkspur, Calif., and Sondra Harris of San Francisco-based Sondra Harris Public Relations for contributing pieces for this RIABiz post.
IMPACT's size in perspective
IMPACT may be the industry's largest gathering at about 3,700 attendees (the FPA, another biggie, drew 2,200-2,300 this year). But in the larger world of conferences it is more shrimp than marlin. Some trade shows, like the International Consumer Electronics Show, draw more than 100,000 people. Hard to imagine.
Still, IMPACT's size may be its overwhelming characteristic. Crossing the entire Boston Convention Center took about 15 minutes – and every woman I know was nursing sore feet. I spotted a few advisors wandering around looking for lunch, too.
In the afternoon and early evening, before people scattered to the dinner and parties being held throughout Boston, I heard several conversations digesting Henry Paulson's version of the financial crisis. Memories of the crisis, always raw for anyone in financial services, have been stirred up again by the documentary Inside Job, which presents unflattering portraits of just about everyone in power. Part of the purpose of Paulson's book-and-speaking tour (he also spoke at Pershing's conference: Advisors flock to steamy South Fla. for Pershing's conference and get a glimpse of web-based NetX360) is surely rehabbing his image or at least trying cast his legacy in a light of his own choosing.
Many advisors, perhaps putting themselves into Paulson's shoes, seemed sympathetic to his story. Below, Tim Welsh wrote about it for RIABiz.
— Elizabeth MacBride
General session – leaders on the stage
The room was full of advisors and full of energy for the kickoff to the 2010 Schwab IMPACT conference. Held in the Boston Convention and Expo Center, the opening general session opened up in a vast room, branded Schwab everywhere.
The good news story about this conference for many attendees is that free wi-fi was available throughout the conference center. Usually a hidden profit center for conference centers, free wi-fi put a smile on a lot of faces, both attendees and most importantly for the nearly 300 exhibiting firms who typically pay upwards of $700 per day for internet access.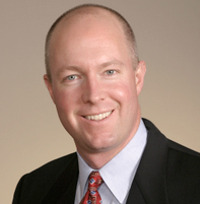 Tim Welsh:One of the more fascinating
tales was regarding the decision to
save Bear Stearns and let Lehman
fail.
Jim McCool, executive vice president of the Charles Schwab Corp. opened the conference after high-energy video montage with the theme of "Be Bold!" supported by images of extreme sports activity and a subtle message to advisors to take the opportunity presented by the financial crisis to grow their firms.
"While others are paralyzed, you're ready to charge ahead," remarked McCool as he summarized the theme of the conference in his very brief remarks.
The real star of the show was clearly Bernie Clark, who was introduced for the first time ever as "the head of the Advisor business at Schwab." Clark, who has held multiple roles in the firm is now the clear leader and this point was emphasized repeatedly to communicate to advisors that the buck stops with him and he is the leader after quite a few managerial changes post the Debbie McWhinney era and since Walt Bettinger was named CEO.
Clark made some very bold remarks in terms of the vision for the RIA industry and the prospects for growth. "We will be bigger than the wirehouses," he confidently claimed based on industry trends, RIA growth and the continued consolidation on Wall Street. "With over 16,000 RIA businesses in the industry and collective $2.3 Trillion in AUM and no one firm with more than 2% share, this industry is poised for growth."
Some of the strategic priorities Clark mentioned were expanding into global markets, developing innovative fixed income products to support the retirement phase of baby boomers and preparing for the Dodd-Frank financial reform.
The new regulatory market will have a "huge impact on advisor cost structures" and technology will be imperative in helping firms manage the new reality of more frequent and intense audits, more disclosure and more complicated workflows, he said.
But with change, brings opportunity. Clark highlighted several firms and their innovative approach to seizing the opportunity and thinking ahead, particularly Aspiriant, the firm that merged several regional firms to create a national footprint.
Next up was John Rogers, CEO of Ariel Investments, who was the marquee sponsor. Ariel has been much more visible lately, after suffering several years of underperformance and large asset outflows.
Hank Paulson keynote
Schwab Chief Investment Strategist Liz Ann Sonders and Hank Paulson, former Treasury Secretary, conducted a wide-ranging talk-show-style interview of the financial crisis.
Asked why he took the job in the first place, Paulson said, "I didn't want to look back 10 years from now and realize that I missed a chance to serve my country. But on the other hand, I had no idea how broken our regulatory structure was, how outdated it was, how it hadn't grown to accommodate our modern markets. I started with regulatory reform the moment I got there in 2006."
Paulson said that he – and everyone – missed the severity of the economic situation. "We thought that it was contained, that the residential housing market had a track record of stability and that making mortgage loans was "safe" and that sub-prime lending really wasn't that big of a part of the economy. No one thought that there would be that steep of a decline to trigger the fallout that infected the entire financial system."
When asked why it was so hard to handle AIG, Lehman, Bear Stearns, Paulson noted that, "We didn't have the authority to regulate non-banks. We needed to go to Congress to get those powers and that took time."
One of the more fascinating tales was regarding the decision to save Bear Stearns and let Lehman fail. Paulson said, "Capital is different than liquidity. We had no idea ultimately how vulnerable the investment banks were. Basically the Bear case was a "run on the bank."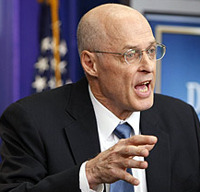 Hank Paulson: If BofA bought Lehmann,
we would have had an even
bigger failure with Merrill.
"We had a buyer for Bear Stearns in JPMorgan, so we were able to facilitate that deal. In the case of Lehman, we had no buyer. Bank of America bought Merril, leaving no buyer for Lehman. Compounding this situation was that the deal we were working on with Barclays was not approved by the British regulator. They wouldn't say no, and they also wouldn't say yes – it was incredibly frustrating. We didn't have the authority to intervene. Thus, Lehman failed."
Paulson emphasized that the entire situation was a "collision of political and market forces. The decision to bail out the banks and Wall Street created tremendous moral hazard; however, the alternative would be much, much worse."
"In looking back, I think history will call me an "interventionist, the bail-out guy." What we did was terrible. However, we were going to be in deep doo-doo if we didn't get the authority to intervene and when we got the authority, we still were in deep doo-doo. However, it would have been a whole lot deeper!
"It was what was needed. I did the best I could under difficult circumstances."
— Tim Welsh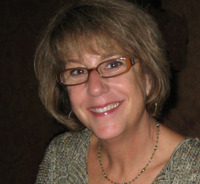 Sondra Harris:Some attendees felt [welcoming text
message] to be a bit spooky
— maybe even big-brotherish — I
and others saw it as a
warm welcome.
A Marketer's View of
IMPACT
Despite a crowd of nearly 4,000, Schwab seems to know how to make a large conference feel somewhat personal. The moment my plane from San Francisco landed, I turned on my cell phone (of course!) and there was a text message welcoming me to IMPACT. While some attendees felt this to be a bit spooky (maybe even big-brotherish), I and others saw it as a warm welcome, building excitement and adding to the buzz.
Have you ever felt lost in a huge convention center, trying to find your way from meeting room to expo to cocktail hour? Could there ever be too many helpful people just waiting to answer your question? Schwab saw to it that no one would get lost. Smiling faces offering help and directions were everywhere. But, while it's helpful to get pointed in the right direction, Schwab excels in how to deliver a conference experience—a feeling of having your personal needs met, even when among thousands.
Famous people also create buzz of course. Most of us don't get to hear directly from people like Henry Paulson, Condi Rice and Biz Stone, founder of Twitter, all of whom were on the IMPACT agenda. And Maria Bartiromo, broadcasting today's "Closing Bell" right from the expo floor was buzz in a bottle, as crowds of admiring attendees snapped photos with their iPhones. Several investment managers and other experts attending IMPACT were interviewed live on CNBC.
All of the above—as well as attendance by a large swatch of the RIA community—attracts a goodly number of reporters, which helps keep the IMPACT buzz going after the stage lights have dimmed.
— Sondra Harris
Elizabeth's note: Harris, who used to work for Schwab, offers some insight into how the big company creates buzz. I also experienced the sense of being personally served, from the agenda waiting for me in the press room to the tables that allowed me to enter a location in the fairly vast conference center and then guided me to my destination.
---
---
Share your thoughts and opinions with the author or other readers.
---