News, Vision & Voice for the Advisory Community
An already stoked crowd heard that stocks are headed up -- and that bonds and commodities may be teetering
October 27, 2010 — 5:30 AM UTC by Elizabeth MacBride
Elizabeth's note: People talk a lot lately about the idea that we're in a new normal, marked by slower growth and less consumption. Listening to Mellody Hobson had me doubting that idea. She redefined the question, pointing out that the latest boom wasn't any kind of normal. "Was it normal to get a house without any paperwork?" she asked. "Was it normal that there were 3 billion credit card solicitations going out to 300 million Americans?
Liz Ann Sonders got me thinking, too. She pointed out one big structural problem in the economy, saying that the unemployment rate for college grads is about 4%, while that for people who never graduated from high school is more than 15%. "That gap has never been so big," she said. That signals opportunity in private education companies, she said – but also a problem for the nation.
On a perfect warm fall day in Boston, nearly 1,700 advisors converged Tuesday for the Schwab IMPACT conference, the industry's largest such gathering. Total attendance was up by more than a third, to 3,700 from 2,700 last year in San Diego, Calif.
Spate of after-parties
The mood was noticeably bright at the conference. Though the vendors were not supplying hand-rolled cigars – a feature of one previous IMPACT during the boom times – the big increase in attendance and the spate of after parties seemed to signal a sense of prosperity. Advisors chucked over the solid-looking tool bag that Schwab gave out as a favor, which was a notch up from last year's smaller bag.
The optimism was reinforced by a pre-conference discussion featuring Ariel Investments' President Mellody Hobson and Liz Ann Sonders, Schwab's chief investment strategist. The discussion was moderated by Maria Bartiromo, the television journalist.
Both women predicted slow but steady improvement in 2011 and emphasized the positive factors in the economy: consumers increased savings' rate (5%); the $2 trillion on companies' balance sheets, and an improving housing picture, albeit one that may be regionally different.
"Everything is there," said Sonders. "We just need a little bit of a spark."

Liz Ann Sonders: Everything is there.
We just need a little spark.

Fidelity steals a bit of the show
IMPACT's presence in one of the historic homes of American investing meant that some of its biggest competitors were also making hay in the sunshine: both Fidelity, headquartered in Boston, and RBC, which like many Canadian firms has a big presence here, reported that executives were booked with meetings with advisors in town to attend IMPACT.
Schwab spokeswoman Alison Wertheim said that was not a concern for the company. "We're bigger than that," she said.
Fidelity bought out billboards between the conference center and the airport to inundate advisors as they arrived, but the biggest surprise was that Schwab's biggest competitor in the advisor custody space has a complex right across the highway from the conference center.
Advisors staying at the Seaport Hotel – owned by Fidelity – crossed a bridge on which Fidelity banners flew in order to get to the conference center.
James Carney, the president and CEO of ByAllAccounts, a fast-growing account aggregator with venture capital backing, was hosting a dinner there for some of his clients.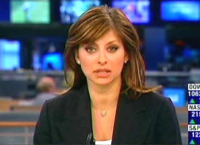 Maria Bartiromo brought a CNBC
vibe to her interview of Hobson
and Sonders
He estimated that several hundred of his clients custody with Schwab, so attending IMPACT – in ByAllAccounts' hometown – means a perfect opportunity to meet with these customers, or to introduce his company to advisors who don't know about it.
"It's a good venue for us to make people aware of what we do," he said.
ByAllAccounts is already integrated into Schwab's Portfolio Center.
The conference room floor opened in the evening. Two advisors who had traveled far, one from Oregon and one from Alaska, and both wearing the alumni tags that signaled they'd been to more than four IMPACT conferences, stood watching a trio of violinists playing beneath a team of acrobats. Steve Welch, a CPA from Grants Pass, Oregon with $65 million in AUM,had arrived at 5 p.m. Christopher Stiehm of Anchorage-based Schneiter & Stiehm Planning & Investments had traveled 13 hours to reach Boston.
"I always come away from these conferences with ideas," said Stiehm, who has less than $25 million in AUM.
Takeaways from Hobson and Sonders
He emerged from the session with Sonders and Hobson, he said, with the ideas that he would focus hard on getting his clients out of bond funds, and that he would look skeptically at some of the commodities that his clients own. Both Sonders and Hobson agreed – along with nearly everyone in the business, it seems – that bond funds are due for a fall, though it may not be across the board.
"I'm particularly concerned on the pension side," Hobson said, referring to companies that have bought bond funds for their pension plans. "This idea that bonds are less risky than stocks – it's just not true. Rates are going to move."
They also said they generally steered clear of commodities.
Both women are looking to the Fed's announcement of QE2 to give the market more certainty about liquidity, and for the mid-term elections. The political situation may offer investors a more substantial framework in which to judge the future, said Hobson. Concretely, investors may also soon know whether the Bush tax cuts will be extended, and how, Sonders added.
Mostly, they said, the more time elapses after the financial crisis, the more likely that companies, consumers and investors will be willing to risk their money. Asked by Bartiromo whether equities would be higher 6-12 months from now, both said they believed they would be – and suggested that chances are reasonable for a period of double-digit growth in equities, too.
Asked to raise hands, a majority of the audience agreed.
---
---
Share your thoughts and opinions with the author or other readers.
---