Fidelity arms its RIAs for battle with white-glove brands
Pershing and Schwab are also angling for advisors game to bag some mega-clients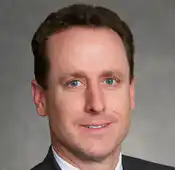 Mike Durbin: RIAs have come a long way.
---
---
Mentioned in this article:
---
---
---
Stephen Winks
October 25, 2010 — 3:26 PM
AND NOW THE REST OF THE STORY....
Under Dodd-Frank the family office services cited are required to be enumerated as a matter of transparency, thus just having these services or access, though important, is just the beginning of the commodization of access to advisory services support for every adviser, not just family offices.
The question is the skill of the adviser in using theses services which is the elephant in the room no one wants to talk about. It is prudent process, or what you do with enabling resources that adds value not the enabling resources. There are no brokers or custodians that make an extremely high level of fiduciary counsel safe, scalable and easy to execute through a (a) prudent process (asset/liability study, investment policy, portfolio construction and management) tied to statutory documentation to assure a prudent expert that fiduciary obligations are being fulfilled and creating a safe business environment in which advisers can work, (b) advanced technology to assure the provision of continuous comprehensive counsel and transparency in investment cost and adviser compensation necessary for fiduciary standing, (c) work flow management tied to a functional division of labor (Adviser, CAO, CIO) necessary to make advice easy to execute. (d) conflict of intererst management (not just disclosure) necessary to actually act in the client's best interest, (e) expert advisory services support for each of the ten major market segments (Mass, Retail, HNW, Ultra HNW, DC, DB, Public Funds, Profit Sharing, Foundations and Endowments and Taft-Hartley) advisers serve.
Presently neither brokerage firms or custodians have made advice safe, scalable and easy to execute as required under Dodd-Frank. The fact that trust services, partnership accounting, composite reporting, Foundation Services, Philanthropic Services, general ledger export services, etc are being touted tells us how unprepared the industry is for the transparency and accountability of fiduciary services required under Dodd-Frank. Banks are closer but must modernize as well. When the industry starts talking about a scalable prudent process that actually empowers advisers to execute fiduciary standing—that is when we should be celebrating to high heavens.
Incremental innovations take us closer, but are not remotely close to empowering the adviser to act in a fiduciary capacity in the consumer's best interest required under Dodd-Frank.
SCW