News, Vision & Voice for the Advisory Community
The San Francisco custodian expects near-record IMPACT crowds but Fidelity is monopolizing billboards to impress them
October 19, 2010 — 3:53 AM UTC by Brooke Southall
Brooke's Note: Imagine if Pepsico held its annual convention in Atlanta or if Oracle held its big company event in Redmond, Wash. It's almost unthinkable. Maybe Fidelity isn't as tied to Boston as Coca-Cola to Atlanta or Microsoft to Redmond. But it's close! Both Schwab and Fidelity see good things happening as a result of Schwab holding its big event in Boston and here are some of the reasons why.
Schwab IMPACT 2010 is shaping up to be one of the biggest conferences in the San Francisco company's history.
The annual convention of Schwab Advisor Services has confirmed registrations from more than 1,600 RIAs, 289 exhibiting companies and 123 third party administrators for the event running Oct. 26-29 in Boston.
The 1,600 advisors include both breakaway prospects from broker-dealers and RIAs invited by Schwab who currently hold their assets with other custodians.
Sold out
The exposition floor is sold out. There are more than 3,400 attendees staying in 14 hotels and the registration remains open and is not capped. The only limiting factor for attendance is hotel room space, according to spokeswoman Lindsay Tiles.
"Definitely we have topped last year by a mile," she says.
In the week preceding last year's conference, there were about 1,300 advisors set to attend IMPACT 2009, according to RIABiz archives.
Adding to the drama is that Schwab's biggest conference since the IMPACT it held in Las Vegas in 2007 is being held – literally – in the backyard of its biggest competitor, Fidelity Institutional Wealth Services.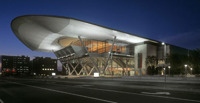 Schwab's big event is inside this
giant baseball cap, Boston Convention and
Exhibition Center.
Local connections
With the benefit of advanced knowledge of the event and local connections, Fidelity is taking steps not to be disenfranchised in its own hometown.
"We've secured all outdoor advertising between Logan Airport and the convention center, so conference attendees will see some interesting advertising," says Mike Durbin, president of Fidelity Institutional Wealth Services.
Fidelity spokesman Steve Austin adds that advisors will likely see big billboard advertising from Fidelity at train stations and along the highways that enter the city as well. The sign messages will be aimed right at arriving advisors with slogans like: "Welcome to Boston, where independence began."
And one of the major hotels that Schwab is using, the Seaport Hotel, is owned by Fidelity.
Fidelity personnel have also told me off the record that – because so many common clients with Schwab are coming to town – that their schedules are booked solid over the course of the event.
Schwab Beantown presence
Billboards aside, Schwab will have its own big advertising presence in Boston during IMPACT 2010, Tiles adds.
"Rest assured, we'll be present as well. We've been very strategic."
One new element at IMPACT this year is the presence of the 123 third-party aministrators – a mix with RIAs that Schwab has not attempted in the past. But changes in Department of Labor regulations are making it more and more attractive for RIAs to manage 401(k) assets. See; Why the DOL's proposed 401(k) rules could ding brokers and leave the spoils to RIAs
"It plays right into the hands of RIAs," says Jim McCool, Schwab's executive vice president for institutional services.
401k element
He adds that connecting the two kinds of clients under his charge could have broader benefits for Schwab and its clients.
"If we can connect RIAs to quality record keepers, we think that's good news for end clients," McCool adds.
See: Why the DOL's massive new 401(k) disclosure requirements are a 'very, very big deal'
---
---
Share your thoughts and opinions with the author or other readers.
---