News, Vision & Voice for the Advisory Community
Ex-Citi executive is putting the people and technology in place to lure assets from slow-footed banks
October 13, 2010 — 4:25 AM UTC by Brooke Southall
Fidelity Investments' fledgling family office asset custody business nearly doubled in size over the past year as the Boston-based brokerage giant poured resources into it.
Family office assets in custody jumped to $20 billion through Sept. 30, a leap of 54% compared with Sept. 30, 2009.
Fidelity also grew the number of single family offices served from 91 to 121, a jump of 32%. The average user of Fidelity Family Office Services has more than $160 million of assets.
Fidelity, however, has been able to grow rapidly by offering an alternative platform to the traditional custodian of choice – big banks.
"We can integrate our capital markets [capabilities] and custody through a single system," says Edward J. Orazem, president, Fidelity Family Office Services. "Banks can't do it. They're agnostic to where you trade and they provide no capital market services for the retail investor."
Capital market services include: stock loans, short sales, municipal bonds, dark pools and algorithmic trading.
The Boston company also came out unscathed in the 2008 financial crisis, which plays well with safety-minded ultra-rich families, Orazem adds.
No custody fee
Fidelity's structure based on its brokerage platform also helps it to avoid charging a custody fee, which means it can vastly undercut banks on price. Trust companies typically charge custody fees of .6% to 1% on the first $1 million of assets and it slides to about .25% for assets of more than $3 million. See: Fees
There may be another factor pushing assets from banks to new custodians for family offices. "There is a trend for families to move from a single custodian to multiple custodians to spread the risk of being concentrated in one institution," says Marv Pollack, Chicago-based director of marketing for the Family Office Exchange which provides consulting to 500 high net worth families and their advisors topics such as managing wealth, family governance and best practices for running family offices.
Charles Schwab & Co.'s family office unit is also gaining critical mass as a custodian in this segment. It serves 135 multifamily offices with $42.8 billion in assets, which makes for a firm average of $317 million in assets. Schwab declined to provide data to compare with last year.
The San Francisco brokerage company defines a family office as an advisory firm that serves multi-generational families with at least $25 million of assets under management. Fidelity Family Office Services only serves single family offices.
Pershing Advisor Solutions declined to give specific data about family offices but it is growing largely on the strength of new multifamily offices and more than 50% of its new RIA relationships of late [and a third of its total assets in custody] fit the multifamily office category, according to Julie Harrington, director, business development for Pershing Advisor Solutions.
See: Look before you leap: Six questions you must consider before becoming a multifamily office
Strong pipeline
Fidelity Family Office Services has about 12 families closely considering its services presently, according to the company. It expects its growth in the next 12 months to exceed last year's.
State Street, one of the giant custodians to family offices, declined to comment for this article.
Orazem was previously head of Citi Family Office. It was not a family office or custodian of them but more of a group that 200 Smith Barney brokers joined to become accredited for handling family office services like bill paying and philanthropic advice. Those accredited advisors advised a combined $200 to $300 billion of assets. The unit was disbanded when Morgan Stanley acquired Smith Barney.
Orazem joined Fidelity in February 2009, and has since hired five salespeople, adding to the single salesperson on staff previously.
In addition, Fidelity has invested heavily in new technology that will address the growing need of family offices to provide a way to report performance of alternative investments. After 2008, big, wealthy families have been looking to safeguard their wealth with hedge funds and other means of stabilizing returns.
The average family office with Fidelity has about 35% of its assets invested in 'alternatives' and some are as high as 50%, Orazem says. The average family office has about 33% of its assets in alternative investments, Pollack says.
Single statement
Information on alternative investments can be fed into Fidelity's Advent Software reporting system to provide a single statement that includes the returns of alternative investments side by side with traditional ones.
Pershing is taking a similar tack to attract multifamily offices, according to Harrington. "We hold and report on alternatives on our statements. Over the past few years we have invested heavily in both the technology and human capital required to support and serve our clients using alternatives." See: Pershing is working to create a better alternative assets experience
The new Fidelity technology also can take, for instance, a $10 million investment that is held by 10 different family members and tell each one what their return is on their sliver of the investment – something that banks can't do, Orazem adds.
The growth of Fidelity Family Office Services divides equally between new families and existing Fidelity clients.
Some of those existing clients were formerly retail clients that experienced a liquidity event like an inheritance or business sale and suddenly needed a much different wealth management service, Orazem explains.
Filling a gap
Fidelity Family Office Services' new platform for managing alternative investments fills a gap in the market, says Jeff Roush, the former chief operating officer of myCFO, a giant family office, and COO of Argos Wealth of Napa, Calif., which manages $500 million and oversees $1.3 billion of assets. Though Roush doesn't have first-hand experience using the technology he said it sounds interesting.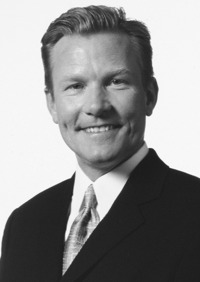 Jeff Roush: Today everything seems manual
on that front.
"(Fidelity) describes something that I believe is right in line with the growing needs of these substantial asset pool decision makers. The usage of alternatives and LP/LLC structures is something that many firms are not as adept at, lately due to the ever evolving regulatory 
requirements, and from the sound of it Fidelity seems to have built something compelling in that regard," he said. "I would not mind taking a look at it some time soon to see if it really does everything stated in as elegant a manner as most family's would require. Today everything seems manual on that front, so it would be powerful to utilize a toolset like the one they describe."
This feedback from Roush is typical of what Orazem hears from family office principals.
"They have consistently said to us: there's a not a good solution in the marketplace and it's one of the biggest pain points that they have."
The standard solution, he says, is to use an Excel spreadsheet.
---
Mentioned in this article:
---
---
Share your thoughts and opinions with the author or other readers.
Elmer Rich III said:
June 14, 2011 — 4:22 PM UTC
We have conversed with and followed this group at Fideltiy for over ten years. After trying different strategies, technologies and business development approaches — it sounds like they have a successful model. Of course, it will evolve. Look forward to learning more.
The family office are is very complex and fraught with peril. There is research suggesting that 70% of family office fail. We have started a Linked In family office discussion group — http://linkd.in/kF8r6h. However, it is strictly for family office stakeholders and sales-pitch and spam free.
---
---