During Steve Cassaday's first year of independence, he watched his life savings dwindle. "I was crushed like an eggshell," he says.
Brooke's Note: When people climb Mt. Everest today, it is a great feat, even though they are the beneficiaries of oxygen tanks, satellite phones, freeze-dried feasts and space age clothing. But when Sir Edmund Hillary made his ascent, he wore wool clothing and fed largely on tea and sugar. Oxygen came from the the thin air. Reading this article made me think of this comparison. Breaking away from a wirehouse is still a profound event today that requires courage, conviction and planning. But even a decade ago, brokers seeking independence had no well-worn path of processes, protocols and service providers to smooth the transition. Here's a story that is a great example of what can happen by sheer determination and ingenuity.
Steve Cassaday had three young children and a big mortgage when he decided to break away from Prudential Securities, where he was a top producer.
He calls that move "joining the I-set-my-hair-on-fire-and-jumped-off-a-skyscraper-club."
The joke is easy to make now, 17 years later from his McLean, Va. offices. Cassaday has an RIA with a staff of 20 and AUM of about $750 million. He's one of the top producers within Royal Alliance.
But on the day he signed the first client to Cassaday & Co., on a shaky table next to a computer he'd just bought from CompUSA, Cassaday was taking a huge risk. Back then, the breakaway movement was much less established. There were big broker-dealers, and custodians where advisors could park assets, but there were far fewer brokers blazing trails. The wirehouse brands meant more, so breakaways faced a bigger risk of losing clients.
Breakaways were oddballs
"Breakaways were oddballs then," recalls David Blisk, who broke away himself in 1997 and is now founder and principal of Spire Investment Partners in Tysons Corner, Va. "Breaking away was pooh-poohed."
Cassaday had known for a long time that he wanted to go independent, but the time never seemed quite right. Then, after he got his series 8 license, the branch manager asked him to pitch in with administrative tasks. What he saw disturbed him mightily.
"I remember saying to my wife, 'You would not believe what so-and-so is doing to customers,' " he says. "They were just things that were obviously not in the clients' interest."
He laid his plans for the breakaway carefully, persuading his assistant to come along, and hiring a marketing staffer from within Prudential. Then, at 4:30 on Friday, October 15, 1993, the branch manager pulled Cassaday into his office.
"We're going to have to let you go," he said.
The breakaway plan had been discovered. Later, Cassaday found out that the marketing staffer had betrayed him.
Cassaday's wife, Mary, soon was pulling up outside the Prudential office in an SUV. With some nervousness, she had agreed to Cassaday's independence plan.
"I am not a risk-taker," she says. "But I am one of 10 children, and I grew up with nothing. I knew I could survive anything."
They were off, to buy that bulky early 1990s computer. The team of three set it up on a table from PriceClub., in office space Cassaday had already lined up in Tysons Corner. Mary Cassaday worked in the business for the first few years.
Clients came in over the next few days, signing on to the new practice as the table shook and their coffee cups wobbled. Royal Alliance staff sat around the couple's dining room table, presenting them with the paperwork that needed to be filled out.
Cassaday opted to be a fee-based advisor, and decided on Royal Alliance because payouts at the b-d range up to 97%.
"I don't want to be crass, but it was all about the money," he said. "I wanted the absolute highest payout and to be able to build my own world."
The first year of Cassaday's business was a disaster. He was watching his life savings dwindle.
"I was crushed like an eggshell," he says.
Major mistake
In retrospect, he believes his major mistake was trying to do everything himself. Though he'd prepared mentally, counting on doubling his expenses and cutting his revenue by half, the revenue actually dropped more. Because he wasn't focused on his clients, he wasn't signing on enough new ones.
He was working long hours trying to keep the business afloat. One day, returning home from an extended trip, he noticed that his children had changed.
"I am blowing my life and squandering time I'll never be able to recover," he thought to himself. He hired a consulting firm, Transform Inc., which he says helped him turn things around, and which he still uses today.
"I hope that other advisors do not call them," Cassaday jokes.
After that, the business turned a corner. Over the years, Cassaday found that he preferred to hire young people and train them, rather than bringing on experienced reps, some of whom he says have bad habits.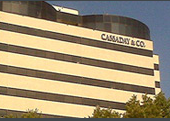 Cassaday & Co. turned a corner
after it hired a consulting firm.

Turned down offers
Recently, one of the people working under his RIA broke away to become completely independent. Barry Glassman formed Glassman Wealth Services, with $300 AUM. See: New RIA with a Royal Touch
Glassman praises Cassaday, and his loyalty to Royal Alliance.
"He's left a lot of big offers on the table to stay with Royal Alliance," he says.
Cassaday says that over the years, he's learned to "stick to his knitting." Though he has considered forming his own broker-dealer, he decided the payoff wouldn't be big enough, and the business headaches too large.
He does his own research, making big investments in small boutique funds, like Dreman Contrarian Small Cap Value, and those in the Buffalo Group.
He says he comports himself as his father advised him many years ago, as if there is a news crew from 60 minutes in his office all the time.
"When you're a certain age, you won't want to listen to your father," he says. "But I think of that a lot."
_Elizabeth's note: Cassaday graduated from T.C. Williams High, the Alexandria, Va. school that had a turn in the spotlight when the movie "Remember the Titans" was released in 2000. Cassaday graduated in 1973, so was there for the incredible winning season of the integrated football team portrayed in the movie. Cassaday says it's a good movie but exaggerates the racial tension at the school.
One more bit of trivia: Virginia Governor Bob McDonnell, who played football for Bishop Ireton High School, broke the T.C. Williams shut-out streak of 20 quarters. McDonnell is apt to relive his high school triumph at events where he is speaking, and at those events, has spotlighted Cassaday as an alum of Bishop Ireton's old rival._
---
---