News, Vision & Voice for the Advisory Community
Why Hou-Sear turned down $60 million to start Luminous
September 28, 2009 — 5:57 AM UTC by Brooke Southall
Mark Sear and David Hou felt only a minimal sense of relief.
A year of secret preparations had climaxed in their dramatic resignations from Merrill Lynch and an intense 1/2 hour recruitment meeting where the five partners, including Kim Ip, Robert Skinner and Alan Zafran, had re-signed 12 of the 15 members of their Merrill team to join their new venture on the spot.
The kick-off activities even included sitting down to acquire their own practice. Until they resigned from Merrill Lynch and penned about 80 approving signatures, their attorneys owned Luminous.
Once hired, employees were assigned the task of preparing the reams of documentation necessary to move accounts from Merrill Lynch to their new custodians. Luminous chose to move the bulk of its initial $1.7 billion of assets to Fidelity Institutional Wealth Services. Charles Schwab Advisor Services won a lesser portion of the assets.
Explaining the breakaway to their employees was one thing. Now the team needed to convince their clients to move to Luminous. The first priority of the partners was to sit down at desks and to begin dialing former clients. About half the clients were reached during the evening. The partners didn't feel the need to launch into elaborate sales pitches; they merely explained what they're were doing and why.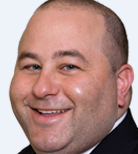 Brian Hamburger: Flew to LA several
times from New Jersey to direct
breakaway
The clients were also told to expect a personal visit in the next three days with papers to be signed for transferring their assets to the newly formed practice. The Luminous partners had close personal relations with most of their clients and most of them agreed to make room in their weekend schedules to sign papers
The partners also stayed in phone contact with the same attorneys who had helped walk them through the year of planning. This included attorneys at The Hamburger Law Firm of Englewood, N.J., which orchestrates dozens of wirehouse breakaways each year, including some of the larger ones.
The Hou-Sear breakaway was big enough that Brian Hamburger, the managing member of the firm, had flown out several times and counseled the Hou-Sear team during that year. Hamburger's involvement went beyond legal do's and don'ts relating to corporate and employment transition issues.
Secure communication portal
Hou-Sear also retained his conpany's affiliate, MarketCounsel, for its RIA Incubator program to maintain a secure communication portal for the team during the planning and implementation process. Hamburger also took responsibility for making sure that Hou-Sear carried out the broker protocol down to the letter.
To keep Merrill Lynch from finding out about the breakaway occurring in its own building or giving the wirehouse any grounds to challenge Luminous, the partners even chose a hands-off approach to interior design decisions, which resulted in a utilitarian office space that Sear quips felt like a "dungeon."
Starting life in an austere institutional atmosphere was a small price to pay to keep from hazarding a much worse scenario, Sear says.

David Hou: "We all have this
type-A personality. Everybody here has a
little bit of paranoia that if
we don't provide great service that
somebody else will."
"Our biggest fear was that Merrill Lynch would find out and fire us," he says. "It worried the heck out of us."
That fear of getting the axe finally behind them, the team could now focus on building the new business. The partners and staff cleared out by about midnight – a long day considering that it had begun for most of them at 6:30 a.m. Sear slept about two hours that night as the realization swirled in his mind that he had taken on millions of dollars of overhead and had zero accounts signed on. "I tossed and turned," he says.
The partners had made the decision of a lifetime. Back when they had started the planning for their departure, in the spring of 2008, Wall Street was still flush with cash and engaged in a frothy head-hunting war for top wirehouse producers. Offers ranged as high as three times production, which could have translated into an offer of $60 million or more for Hou-Sear.
$2 million start-up capital
Taking the cash certainly would have had its benefits, Hou allows. "We could have taken the check and coasted for the next seven years" until the payment fully vested, he says.
Rather than coast and continue to do business in a conflicted platform, Hou-Sear sunk about $2 million into the start-up of Luminous Capital. The Luminous partners raised the capital by cashing in deferred compensation from Merrill Lynch.
The cash was needed mostly to meet anticipated high overhead during a time of low liquidity. Hou-Sear had full salaries and benefits to fund when they left in May. There were also likely to be precious few revenues rolling in to Luminous Capital until October. Like many RIAs, Luminous charges clients their fees retroactively based on assets managed during the prior quarter. The first completed quarter would end on Sept. 30.
What led Hou-Sear to take the unusual step of passing up $60 million – and subjecting themselves to sleepless nights — was a combination of their particular characters and the way the advisory industry was changing around them, they say. The average RIA in the RIA industry is about 53 years of age [and ones with major production tend to be even older], and they're looking for an opportunity to wind down to retirement.
Goldman Sachs factor
The Hou-Sear principals, in contrast, range in age from 38 years to 45 years. They're still winding up. Hou-Sear generally logs 11 or 12-hour days in the office, and the work ethic is more like 24/7. You can count on someone picking up the phone at Luminous from 5:30 a.m. to about 7 p.m. Pacific Time. The long hours are a vestige of the seven years that Hou and his partners spent at Goldman Sachs where it's part of that company's investment banking culture, Hou says. It's also a statement about what makes the Luminous guys tick.
"We all have this type-A personality," he adds. "Everybody here has a little bit of paranoia that if we don't provide great service that somebody else will."
This type-A tendency may explain why the Hou-Sear team took it so hard when they lost out on a couple of opportunities to win new clients as Merrill advisors. In those instances, the accounts of the client prospects ended up with RIAs, Hou says.
Analysts and other industry observers including Tim Welsh of Nexus Strategy LLC of Larkspur, Calif., believe those losses of clients to RIAs may have been the smoking gun of motivation for this team. For young successful guys like these, losing isn't an option, said Welsh, a former Merrill Lynch executive. If you can't beat RIAs, join'em.
Read the final installment of this Hou-Sear series on Wednesday. The partners fan out by jet to Denver, NY, Miami, Phoenix and Northern California in a bid to win back clients. David Hou's father speaks out about what makes his son tick. Mark Sear won't give up when a client's fax machine stops working.
---
Mentioned in this article:
MarketCounsel
Regulatory Attorney, Consulting Firm, Specialized Breakaway Service
Top Executive: Brian Hamburger
---
---
Share your thoughts and opinions with the author or other readers.
John Furey said:
September 29, 2009 — 3:23 AM UTC
One thing Luminous did that was unique was to hire a COO in advance to set up the office and infrastructure for the team. This is not realistic for the vast majority of advisors, but is one of the reasons I started my firm. Hou and Sear were able to focus on their business while the COO set up all the systems and did the majority of coordination with partners and vendors – I believe this turbocharged the transition.
http://eto-multivarka.ru/user/kopetpdefg/ said:
June 26, 2014 — 3:02 PM UTC
In the event netbook prospective buyers have been keeping off on the netbook obtain to find out exactly what the Apple pill was about to appear to be, they will go on and get that new Home windows 7, Atom Pine Trail-based unit with all the fourteen hour battery lifetime that has a true keyboard, 250GB tricky drive multitasks, runs Outlook and has common ports to connect with the skin environment. Oh, and it'll most likely price tag a great deal fewer than $499.
http://thescripter.com/winzip_installation.htm said:
June 26, 2014 — 4:30 PM UTC
DHA is well probably the most critical nutrient for brain. It really is usually identified as as ood for brain? 'abnormal' quantities of DHA within the bloodstream stream indicates elevated opportunity of neurobehavioral conditions, reduction of memory, and poor concentrating abilities.
---
---