David Hou and Mark Sear started together at Goldman Sachs and maintained that 24/7 culture in their partnership
May 9, 2008
It was almost 4:15 on Friday afternoon in Merrill Lynch's Century City Private Banking and Investment Group office, and the place was a morgue. The way David Hou's colleagues cleared out on Fridays had rankled the star financial adviser in the past. Now, he planned to turn that tendency to his advantage.
At 4:20 pm, Hou and his long-time partner, Mark Sear, with their watches carefully synchronized, walked to their boss's empty office in their Century City skyscaper and dropped a list of about 200 clients on his desk, including account numbers and other vital information. Sear pulled out his cell phone.
"Mike, I'm standing in your office, and I'm joining the protocol," he said.
With those words, the two advisors turned the rarefied world of ultra-affluent money management on its head, becoming among the highest-profile advisers yet to ditch the wirehouse world to become independent advisers.
The actions of the two men sent shock waves to the pinnacles of the wirehouse world, according to Robert McCann, the former vice chairman of Merrill's global wealth management division who left in January after his firm was acquired by Bank of America.
"That's a big loss"
"I ran Merrill Lynch's wealth management division for five years and there are a large number of very talented financial advisors that I worked with there," he said. "But when Mark Sear and his team left, it was the only time in five years it stopped me in my tracks and I thought: that's a big loss."
To leave Merrill legally and be able to approach their clients, Hou-Sear had to follow the carefully established protocol that enables advisers to break away from wirehouses. This protocol is effectively a no-fault truce that wirehouses formed among themselves to forestall the perpetual legal conflict that resulted as they raided each other's top brokerage talent.
RIAs can co-opt its provisions to break away to independence while substantially reducing the likelihood of getting sued. The advisors must refrain from courting clients to their new practice until after they have resigned — and hand over a list of clients with phone numbers and account numbers before they walk out the door.
In short, it requires brokers to take the ultimate leap of faith — to quit their jobs with no assurances of taking any clients with them. With that phone call to their boss, Hou and Sear unilaterally handed away a book of business with billions of dollars of assets and $20 million or more in annual revenues.
Black Sheep
"It was surreal," Sear said. "We just stared at each other. I said: it's done. We don't work here anymore."
Michael Rogers offered to return to the office to talk over the move, but neither Hou nor Sear had any time for second thoughts. As the two walked to the hallway outside the Merrill offices, past the little bull placard, Hou thought briefly about his father, a Chinese immigrant and a retired engineer.
Hou had been the self-described "black-sheep" economics major in a family of engineers and doctors. His father, James Hou of Chino Hills, Calif., was placated when his son joined prestigious Goldman Sachs early in his career. But Merrill had been a step down in his father's eyes, and Hou believed that going independent would make even less sense to his dad.
Traveling alone and in silence as the elevator descended, Hou and Sear dropped from Merrill Lynch's office on the 12th floor to the third. The doors opened and they walked down a hallway to an office with no name placard.
The door was ajar and a buzz of conversation emanated from within. While Sear had been conversing civilly with Mike Rogers — Hou and Sear still consider him a friend — another partner, Robert Skinner, had herded 13 their brokerage team's 15 employees on to elevators; one employee was attending a wedding and the other was being similarly shepherded by another partner at the team's Menlo Park office.
Skinner had told the LA staff to gather for a drink in one of the building's courtyard restaurants to honor a colleague as a diversion. Once they had been standing around in the courtyard for 10 minutes, the staff were told to get back onto elevators and reconvene on the building's third floor.
Now, the team was gathered in a new 5,000 square-foot office bristling with trading screens, computers and phones. The employees were now talking furiously as the significance of the new office dawned on them. The breakaway by their bosses could hardly have been more surprising to them.
Nerdy analytical types
Sure, they had been aware of other Wall Street advisors choosing to break away, but the wirehouses had portrayed the breakaway brokers as low producers, liability risks or nerdy analytical types.
There was no way a team like Hou-Sear fit any of those in their minds. It wasn't lost on them that Hou-Sear, as the team was known, were insider-type young guns with an LA flair but beloved, too, by the old boys club back in New York.
When Hou-Sear had come to Merrill from Goldman Sachs in 1997, the team brought not only $1 billion in assets but also what they learned there about doing business with ultra-affluent clients. Merrill frequently referred its brokers to Hou-Sear to learn the ropes of serving investors with $10 million or more in assets, the partners said. Over the years, Hou-Sear also became a trusted advisor to top management at Merrill Lynch.
"When I had an idea and I wanted a reaction, I would call Mark [Sear] and say: what do you think?" said McCann, the former Merrill vice chairman.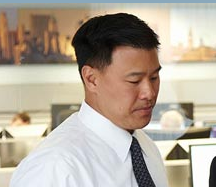 David Hou: Took a pass on
a $100 million lead from Merrill
Lynch right before breakaway
Merrill executives like McCann and Stanley O'Neal, the firm's former CEO and chairman, as well as Merrill's's investment banking division, passed along referrals of the most elite clients. In fact, during the week that the Hou-Sear team was preparing to cut the cord with Mother Merrill, Hou received a referral from the company's global lending division for more than $100 million.
He postponed the meeting with the prospect until after the breakaway date, because he believed it would have been improper to meet with that client under the circumstances. Walking away from Merrill was tough enough personally because he still liked the company and the people there. But the foregone referral aggravated his sense of short-term sacrifice.
Would The Employees Sign?
At 4:30 p.m., the partners steeled themselves again. They needed to convince the 13 former employees assembled to join their soon-to-be-formed registered investment advisor during that 30-minute span. If they didn't get them to resign from Merrill by 5 p.m. then they would have to wait until business hours the next week to make it happen.
The Hou-Sear team did not relish this prospect. It would result in spending the weekend calling clients and having to explain to them that they had no employees. And the partners would need to process reams of clients' documentation without staff help.
Sear gathered the men and women in the trading floor area of the office, where a pre-populated whiteboard stood. The room hushed as he called attention to bullet points that explained why working for an RIA beats working for a brokerage company.
One sore spot for Hou and Sear had long been the way Merrill compensated its brokers' support staff.
Every big-time Wall Street advisory team uses assistants these days to handle a blizzard of administrative and servicing tasks. On the Hou-Sear team, there were 15 staff members, including an analyst and a vice president working with each partner. Everyone works marathon hours. But with Merrill's compensation system, which ranges from about $45,000 to $60,000 a year, they say, the Hou-Sear partners worried about keeping people even though they reached into their own pockets to supplement their pay. Merrill Lynch declined to comment for this article about its compensation and management practices.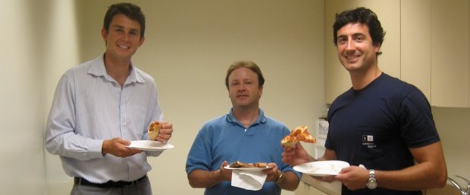 A light moment for Ryan Thompson,
financial analyst, Seth Bermel, v.p. of
operations and Scott Dore, vice president
after joining the Hou-Sear breakaway
In that 10 minute explanation at the white board, Hou and Sear explained how Luminous Capital would be different: in addition to their pay, which would remain the same as at Merrill, each employee would get equity in Luminous Capital. They spelled out how operating as an RIA would yield better long-term rewards than working in the brokerage world.
Sear allowed for five minutes of questions, and then told the employees he needed them to decide immediately whether or not to resign from Merrill Lynch and sign an employment contract with their new firm, Luminous Capital.
Furthermore, the employees were told they had to leave the premises immediately if they couldn't decide. One employee bowed out because he believed he owed his Merrill manager the courtesy of hearing from him before signing any papers. That employee would sign the following Monday, along with another employee who was away at a wedding.
Stacks of pizza
Each of the partners then went to separate rooms in the new offices and had their former employees sign resignation papers and fax them to Merrill Lynch. The employees then signed other papers prepared by Luminous Capital to accept their new employment. By 5 p.m., Luminous Capital had 12 employees, which was 80% of the Hou-Sear team's former staff.

Mark Sear with his son. The
family joins the celebration but clients
have to be called.
Sear allowed himself a sigh of relief as the final resignation paper was spit through the fax machine in completion. "We expected that we could possibly get zero" employees to resign on such short notice, he said.
Soon there were take-out pizzas arriving in stacks and the boxes were sprinkled liberally around the offices. Wives, children and other well-wishers filed in but the evening's work was just beginning. Sear and Hou shuffled into a conference room where they met with the only two people present wearing neck ties, Keith Holmes, a partner with King, Holmes, Patteno & Berliner, LLP and his paralegal.
Their local counsel presented them with documents that required about 80 different signatures. The contracts, prepared by the Hamburger Law Firm, passed ownership of Luminous Capital to the Sear-Hou team. They had just purchased their own start-up practice — a business with no customers or revenues – from a division of MarketCounsel, LLC, a business and regulatory compliance consulting firm to independent investment advisors.
Hou and Sear allowed themselves to have a sip of champagne, a bite of pizza, take a few pictures and exhale. Yet they were still hyper-aware of one inconvenient fact. They were an asset management firm with no clients, no assets to manage and nor even any contracts signed with clients. The mad scramble to re-sign clients would consume them for the next 72 hours.
In the next article: Doubts, anxieties and broken copiers as Hou-Sear fans out across the nation to sign on clients. Plus, David Hou tells his father about the breakaway. See: Hou-Sear team can't always beat RIAs so it joins them.
Look for Part II on Monday.
---
---
Mentioned in this article:
---
---
---
J. L. Livermore
Going for a doubleheader win. First time win $250MM. Second & third time's the charm they will find a $500MM... JLL