Andrew Doman: Moving to Seattle is an important milestone in Russell's extraordinary history
Editor's Note: I spoke to one industry executive today who expressed some misgivings about Russell Investments move to Seattle after reading this story. He told me how he made an annual trip to the slightly down-in-the-mouth city for seven straight years. Each year Russell executives he visited with told him that the view of Mt. Ranier from their headquarters building beat any view in Seattle. But each year he would arrive to rain and overcast conditions and so he couldn't see the snow-capped dome. On the eighth year, however, he arrived on a crisp, clear day and the view of Mt. Ranier was stunning, more than making up for all the trips. "It was like it was right there," he said.
How many times have conversations about Russell Investments ended with the words; "but it's in Tacoma?
These exchanges will cease as of 2010 when the global investment company with $151 billion of assets [as of June 30] under management moves at last to Seattle, according to a release from the company.
Russell was founded in Tacoma in 1936 and was acquired a few years ago by Northwestern Mutual. Tacoma offered $149 million in incentives to keep Russell, according to an article in the Puget Sound Business Journal.
The down real estate market provided this rare opportunity to upgrade the location for about 1,100 employees currently situated in Tacoma, said Russell's president and CEO, Andrew Doman.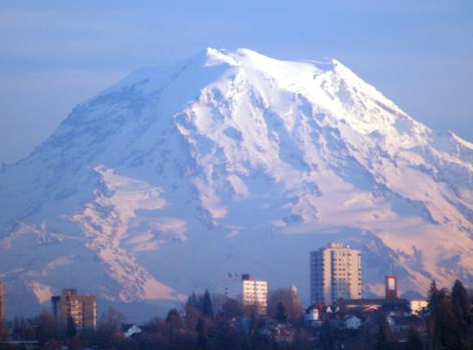 Russell Investments employees will lose mind-blowing
Mt. Ranier view. Photo Credit: Larry
Lane
"We came to the clear conclusion that this is the right decision to best serve the long-term interests of our business, both from an economic and qualitative standpoint, and particularly given the unique conditions of the commercial real estate market in Seattle," he stated in a release.
The company and it's executives will no longer have to have to tell clients and prospective employees that they aren't located — as one might expect — in Seattle but rather in the blue plate special environs of its sister city, Tacoma.
[I know of at least one Bay area company exec who took a job that decided not to follow up longer term because Tacoma was not to his liking.] Russell employees who live in Seattle get discouraged by the traffic between the two locations] Doman allows that Seattle may have advantages of being a more cosmopolitan city.
"The move will provide the company with access to a large talent pool and will place Russell in the center of a major Pacific Rim city, alongside other like-minded global firms and business pioneers," he says.
Russell has long been a favored vendor of financial advisors who like its manager-of-managers turnkey asset management products and at one time Russell even kept custody of the assets. It transferred custody of most of those assets to Fidelity Investments on behalf of clients.
"Moving to Seattle is an important milestone in Seattle's Russell's extraordinary history and will serve as an outstanding platform from which to embark," Doman said.
---
Mentioned in this article:
---
---
---