Jim McCool: Trish Cox and Bernie Clark have authority
Editor's Note: In the last article I wrote about Jim McCool's Sept. 14th speech at IMPACT 2009, I quoted advisors who noted that he did not address specific issues and that his comments were "corporate" in nature. In his closing remarks on Sept. 16, he made a couple of remarks that I believe RIAs may be interested to hear.
Bernie Clark and Trish Cox are "fully empowered" to make decisions pertaining to the 6,000 financial advisors who use Schwab as their asset custodian, said Jim McCool, executive vice president of institutional services at Schwab Advisor Services, according to an InvestmentNews article "Schwab's mea culpa and promises to advisers" published on Sunday.
McCool was quoted making this statement twice during his closing remarks on Wednesday remarks at his company's annual advisor conference, according to the article.
The comments about the managerial authority of Clark, Schwab's executive vice president of sales and relationship management and Cox, Schwab's chief operating officer, come about 10 months after Charles Goldman's position as head of the RIA unit was eliminated last November. Goldman now oversees Fidelity's RIA and clearing units.
When Goldman left Schwab, McCool, who also oversees Schwab's corporate and retirement services business, assumed oversight of the advisor business.
The importance of who is in charge of RIAs at Schwab has grown as issues arose between them and the company, advisors say. To address substantive issues, they want to know who to hold accountable for their concerns and who advocates on their behalf within the company.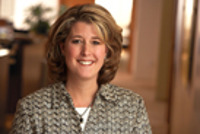 Trish Cox: Oversees 1,000 employees

The prime issue in this regard has been Schwab's resolve not to hold alternative assets in its custody. McCool also acknowledged this issue Wednesday, according to the InvestmentNews article. "Yes, we stumbled earlier in the year," he was quoted as saying in the article in the context of announcing in February its position regarding alternative investments.
By publicly mentioning the company's misstep, McCool may have helped to defuse concerns of RIAs at the IMPACT 2009 conference that he was glossing over serious issues. I quoted two advisors [and spoke with others] who observed that his opening remarks skirted any specific issues.
Schwab will say much more in the near future, according to Alison Wertheim, spokeswoman for the company.
"It's important for us to communicate clearly and completely with our clients about our final alternative investments solution and we will do so as soon as we are able," she said.
Reluctant custody switches by RIAs
The communication can't come soon enough for some advisors like Litman/Gregory Asset Management of Larkspur, Calif. is among the firms that are carrying out their threat to move assets because of the alternatives issues.
"We like Schwab," Steve Disenhof, a company principal who writes about the decision on his company's web site. "We like the people we work with at Schwab. And we are very happy with the client service we receive at Schwab. At this point, I fully expect we will keep a significant portion of our assets with them long into the future. It's unfortunate that their decision caused us to move down this path, but six months after their alternatives' announcement, they have yet to offer a final solution."
Litman/Gregory has hundreds of millions of assets and it is clear from how Disenhof phrases his remarks that he moved assets from Schwab to Fidelity Investments with some reluctance.
"We expect that working with two custodians will add an extra layer of complexity to our back office work–and also to the front office–but will also offer the advantage of choice for our clients and more flexibility in some of the services we can provide," he adds in the written posting.
Both Litman/Gregory's decision to move assets and the way the company carefully — almost regretfully — explained it are reminiscent of the decision and statement made in an earlier interview by Jeff Roush, managing partner of Argos Wealth Advisors LLC of Napa, Calif.
"We already made our decision to move our assets to Pershing [from Schwab] because we have to," he says. "That's not a comfortable decision."
---
Related Moves
February 24, 2021 – 3:31 AM
---
---
---