Bernie Clark: Team liftouts have contagious effect
Schwab IMPACT is foremost an event held on behalf of the clients of Schwab Advisor Services but it is secondarily a recruiting event. Schwab is trying to bring aboard new advisors from the wirehouse industry but so are many of the RIAs themselves. The scale, concentration of powerful registered investment advisors and the program's quality open the eyes of brokers who think of independents as a rag tag army of mom-and-pops. In conducting dozens of interviews over the course of a couple days at IMPACT in San Diego, I kept asking people to give me more insight into this whole recruiting process and the subtle changes that are emerging. Pretty quickly my notes were littered with bits of interesting information that I decided to compile into this list below.
1.) The strategy of wirehouses to retain brokers by weaving them into large teams is starting to have the opposite effect, says Bernie Clark, executive vice president overseeing sales and relationship management for Schwab Advisor Services. In fact, team members give each other psychological support in making the transition, he adds. A prime example is a phone call Clark received from a Merrill Lynch broker this month who was interested in learning more about becoming an RIA. That broker is a member of a multi-location 60-member team that spans offices of the wirehouse nationally. "It's a myth that they're in one place," Clark says. "They sometimes span the country."
2.) The psychological effects of large teams defecting is felt more acutely by the stay-at-homes. Ghost towns of cubicles are created at some branches and Schwab is more likely to get phone calls from the brokers who remain on the periphery, Clark explains. This snowball effect is generating a sense of urgency among breakaway broker prospects: "Three years ago we were talking to people who were talking about it for three years," he adds.
3.) The weight of so many breakaways has other ways of building on its own momentum. Most brokers at wirehouses personally know a breakaway. More importantly, captive brokers are likely to know a large, successful breakaway RIA that they feel comfortable to call and ask about life on the other side.
4.) Life on the other side is a smash hit. Brian Hamburger, whose legal practice, The Hamburger Law Firm, centers on breakaways, held a special session for 45 breakaway prospects about how to turn independent without encountering legal problems. I met him after the session and he explained how he warned the brokers about the dangers of too much exuberance [think gate fever in Shawshank Redemption]. Unchecked joy allows the cat to get out of the bag and for the wirehouse to fire you. Still, any movement where unbridled joy is a major problem is one that is going to add to its numbers sooner than later.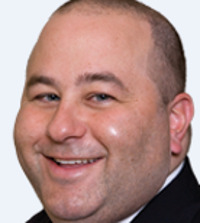 Brian Hamburger: Carefully
manages breakaway exuberance

5.) The #5 factor is well known and worth re-emphasizing. The great fraternal order of Merrill Lynch that held brokers as if by blood ties has lost some of its cultish hold, according to Schwab executives, private recruiters and lawyers attending IMPACT. When your beloved firm gets offloaded to Bank of America in a fire sale and put under the leadership of Smith Barney's former chief brokerage executive [Sallie Krawcheck], all bets are off. "Merrill was a very loyal group," Clark says.
6.) The wirehouses are not —nor show any inclination toward — developing any immunity to defections."They're too busy fussing about with tax scandals and arbitration and they're firing people and they're integrating," says Barnaby Grist, head of strategic business development for Schwab Advisor Services. "It takes 12 to 18 months to integrate a merger." Merrill Lynch, Wachovia, Smith Barney and Morgan Stanley are all deeply ensconced in merger integrations. [They are also making a stand in Washington to get brokerage advice labeled as a fiduciary advice through SIFMA.]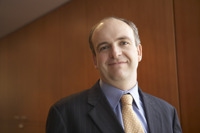 Barnaby Grist: Wirehouses are self-absorbed by
merger integrations
7.) The breakaway movement is shifting from one driven by the entrepreneurial ambitions of brokers to a movement of brokers reacting to consumer demand, according to advisors. Brokers not only spend time defending their indefensible brands but consumers are starting to ask their broker: why aren't you turning independent? Consumer demands –often forgotten in these discussions — are a powerful force for change.
8.) The marketplace is reacting to the needs of breakaways by creating a better world of soft landings. It includes a grass roots movement. Yesterday morning I interviewed Paul Hynes of Burns Advisory, which has offices in California, Oklahoma and Connecticut. His company retained a consultant, David Selig, head of Advice Dynamics Partners, to help it fold breakaway brokers into its practice. Hynes had his first likely hire attending IMPACT to vet the opportunity. Hynes says his group invested in a "Ferrari" engine of advisory technology, including $250,000 for iRebal and $90,000 for SalesLogix customer relationship management software. Unlike the better-known aggregation efforts in the marketplace like Focus Financial and United Capital, Hynes and his partners will personally continue to personally serve clients. Look for more of these ad hoc efforts that may evolve the user-friendliness of breaking away.
9.) Brokers are losing their fear of wirehouses. Hamburger says he now knows of instances where wirehouse brokers actually invite custodial sales people into their branch office for a recruiting meeting.
10.) Breakaway fever is spreading to unlikely places like the affiliates of independent broker-dealwers where advisors are traditionally not susceptible to pitches about becoming a full-blown RIAs, according to Clark and Grist of Schwab. Schwab just won a couple of advisors from LPL — something of a breakthrough, they say. An LPL broker already enjoys many of the advantages of independence including using its own brand name and some of the freedom of investing choice needed to best serve clients. Those relative advantages aren't good enough anymore for many of these brokers, Grist says. At LPL "it's more of a niggling pain than an acute pain," he says. "Are you willing to [withstand] this low-grade headache all the time?"
---
Related Moves
August 19, 2020 – 2:18 AM
---
December 10, 2019 – 2:05 AM
---
October 5, 2018 – 7:40 PM
---
---
Mentioned in this article:
---
---
---