Brooke Southall: I separate brokers as people from brokers as an institution
Today marks the debut of RIABiz.com, a web site for registered investment advisors and those who want to learn more about them.
I am launching RIABiz from Sausalito, Calif. as an all-online publication with a news bias and a focus on advisors who choose to register with the Securities and Exchange Commission. It will also produce in-depth analysis and opinions related to RIAs.
I came to appreciate the qualities of good RIAs after long observation. I wrote about them for Investment News from 2000 to 2008 and later for Registered Rep magazine and Financial Planning magazine as a freelance writer. My goal in forming RIABiz was to give my coverage of RIAs a home that could be a destination for readers interested in this dynamic group of financial advisors.
I chose to feature RIAs here because I believe that an advisor's level of accountability and its alignment to its clients better defines its nature and than the labels often attached to advisors like wealth manager, investment advisor, investment consultant and others. RIABiz is being founded under the belief that nuances reflected by these various titles mean little compared to an advisor's determination to provide fiduciary care to clients.
I understand that there are good brokers and questionable RIAs but I believe that answerability to the SEC and a culture of putting clients' interests first is the best starting place for discourse relating to financial advisors.

Frank Noto: Respected in industry for
advertising approach
In tackling RIABiz I am lucky to have great help from Frank Noto who is overseeing our advertising and Nevin Freeman who is handling technical and design issues for RIABiz. Noto is well-respected in the industry after eight years spent selling advertising for Investment News and On Wall Street. His approach is low-key and professional and he has used his experience to help me to conceptualize this publication.
Freeman has managed and developed web sites like Cycleto.com and WorldCentric.org where he is known for his innovation and attention to detail. He has worked to bring his ideas from web sites in other realms to RIABiz.
Hyper-current
I am also fortunate to have loyal sources, readers and friends in the financial advisory industry. This network of people keeps me hyper-current on RIAs so that I can write about them with insight and enthusiasm. Among this network are industry veterans like David Selig, CEO of Advice Dynamics Partners in San Francisco and Marcel Dawson, principal of RIAMarketplace.org, a Boston-based social networking site for RIAs and people who closely identify with them.
They have both lent me support to get through the start-up process of this publication and were kind enough with their thoughts here.
"I welcome Brooke's return," Mr. Selig says. "As an M&A adviser who closely follows the issues affecting my RIA clients, I miss the insightful and fresh perspective that he delivered when covering the RIA industry [for other publications]. Given his connections, experience, and insight, RIABiz has the opportunity to probe the issues most relevant to RIAs."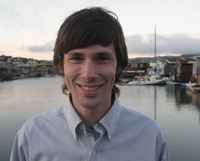 Nevin Freeman: Brings web design ideas
from other industries to RIABiz
The issues relevant to RIAs are truly distinctive from the rest of the financial services industry, says Marcel Dawson, founder of RIAMarketplace.org, a social networking website in Boston.
"As a professional in the RIA space, I've relied on Brooke's articles over the years for necessary guidance and depth," he says. "The RIA business is complex in that it consists of various subsets and distinct cultures based on platform, assets under management and business model. Unlike many, Brooke has been in the business long enough to understand and write about the growth within each of these subsets."
Indeed, RIAs tend to be so fiercely independent that each one is a subset. I seek to use the discourse in RIABiz to help build community among the 18,000 practices registered with the SEC and the additional 11,000 firms that are register with the states where they practice. The wider RIA nation includes all the companies that serve RIAs, partner with them or want to convert to or modify their practices toward the RIA model. RIAs are independent but they are not islands and the companies who serve them also figure prominently in the future of the evolving advisory industry.
In keeping with this mission of community, RIABiz will rely on advertising revenues rather than subscription fees. Wide participation makes for a broader community and I don't want to create any obstacles to that.
Brokers wary of leap to RIA model
RIABiz also seeks to create a destination for the tens of thousands of registered reps who are wary of making the leap to independence. RIABiz separates brokers as people from brokers as an institution. I recognize that stock brokers often turn out to be RIAs-waiting-to-happen and that's why custodians like Schwab, Fidelity, Pershing and TD Ameritrade are pursuing them so intensively. It's why independent top broker-dealers like Raymond James and Cambridge Investment Research are courting wirehouse brokers by promising easy access to RIA custody services.
Despite the open arms of these capable firms, many stock brokers haven't gotten comfortable with the idea of breaking away. I think RIABiz can help by providing thoughts and information that accelerate those intellectual, practical and emotional processes. I'm seeking to create a place to for brokers to mull over this major life decision in an atmosphere of intelligence and sympathy. RIABiz will closely cover the art of breaking away. This coverage includes an upcoming multi-part series of articles that tell the inside story of how a team of wirehouse advisors broke away with more than $1 billion and literally never left the building.
Escape from New York
I have some personal insight into breaking away from a New York-based legacy organization. My launch of this web site comes after years of working for established New York trade publications for financial advisors. It makes me more acutely sympathetic to your challenge of turning independent. It's not easy. It also has rewards worth seeking. It looks increasingly attractive in your industry because RIAs seem to have the upper hand in competing for the clients of Merrill Lynch, Morgan Stanley Smith Barney, UBS and Wachovia.
For news sources like RIABiz as much as for financial advisors like you, technology has helped to level the playing field and consumers are catching on. Though New York-based conglomerates enjoy advantages of greater scale, the independent can counteract them with nimbleness, flexibility and unconflicted purposes. I am confident that some of these advantages will become apparent to you as readers of RIABiz and that it will help you feel more wired into the RIA realm.
Brooke Southall
(415) 389-8207
brooke@riabiz.com
---
---
Mentioned in this article:
RIABiz.com
RIA Publication, Blog/Social Networking Tool
Top Executive: Brooke Southall
---
---
---