Ric Edelman:Expects to double staff to 400 by end of 2010
Editor's note: Ric Edelman was named the #1 advisor in the Barron's Top 100 Independent Advisors study on Aug. 29. He has been a strong contender in past years placing second in 2007 and finishing 39th last year. More to come soon on these pages about what makes Ric successful and what other advisors can learn about scaling up their practices.
Ric Edelman, one of the nation's largest RIAs, plans to open six offices in the New York City metro area by Labor Day, the first piece of a multi-part expansion on tap for 2010.
Mr. Edelman also plans to open offices in Chicago, Detroit, San Francisco and Miami, though the speed of the rollout in those locations will depend on the company's experience in New York. Edelman, who has about 11,000 clients and $3.8 billion under management, says he wouldn't be surprised if his 200-employee company had doubled in size by the end of next year.
Edelman's expansion plan may help create a model for other RIAs to follow. It's difficult for RIAs to expand geographically because, traditionally, their growth comes from referrals and from a particular culture that attracts clients, says Robert J. Ellis, principal, wealth management, with consultancy Novarica.
Edelman has invested in building a brand, and is now counting on that to win him clients outside his home base in Washington, D.C. Only a handful of other RIAs, such as Ken Fisher and Adam Bold of the Mutual Fund Store, have been able to establish a national foot print.
"It's very expensive to build a brand," notes Ellis. Edelman's new offices, which will be staffed by 2-3 advisors each, mark a change in direction for Edelman, whose media appearances and radio show have given him one of the most recognizable brands in the business.
He has pulled back on an earlier expansion strategy, which was to create a network of advisors nationwide who paid for his investment advice, but were not employees. "The quality control wasn't as strong as we'd like," Edelman said.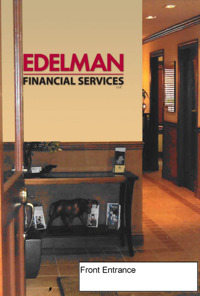 Edelman Financial: Staten Island Interior
However, the network will continue to exist and has a "couple dozen" members. Edelman chose New York City for his first expansion market because it's geographically close to his headquarters in the suburbs of Washington – the two cities are less than three hours apart on the high-speed Acela train—and because responses to his radio and television programs and seminars has been strong in the New York area. Office locations include NYC [527 Madison Ave.], White Plains, Staten Island and Long Island.
Edelman's financial performance has been strong, he said. As of Aug. 13, for the prior 12 months, accounts at his company were down an average 9.9%, net of fees. The S&P 500 declined 19.1% in the same time. Year-to-date, accounts are up on average 13.7%, net of fees, while the S&P is up 14%. He offers clients 75-80 different portfolios.
Salary and percent of revenues
He has budgeted $300,000 – $500,000 for each office in the metro areas on his list. Each will be staffed by 2-3 advisors, paid by a combination of salary and a percent of revenues brought in to the office. Edelman said he has a system in place to ensure that advisors are putting the clients' interests first with their advice.
In taking on New York first, Edelman is treading into a rich but complex market. Bold of the Mutual Fund Store, which has 65-70 franchise and company-owned stores nationwide, said he has deliberately not expanded into the city. In part, that leaves him room to grow in the future, he says.But it's also because of the culture of the city.
"There's a stock- trading mentality that's very pervasive in New York. Our strategy is much more asset allocation." Anja Luesink, who opened a fee-only advisory, Luesink Financial Planning, in Manhattan a year ago, says it's particularly important in New York to have a niche, to market hard and to network with other advisors.
She targets the middle income and foreign nationals markets."Certainly many people here are focused on stock trading," she says. "But more people are coming away from that."
Elizabeth is one of the better business reporters and editors that I know. We both started our journalism careers with the Central Penn Business Journal of Harrisburg in 1993. Elizabeth is our East Coast presence and she lives in Virginia with her husband and children. Contact her at: emacbride@verizon.net
Next week: Elizabeth MacBride looks to Ric Edelman, Adam Bold and Ken Fisher for lessons on how an RIA can scale up.
---
---
---