Don Peters: Buying and borrowing from China is a broken economic model for the U.S.
RIAs are reeling after a brutal bruising of their portfolios in 2008 and 2009. But I'm concerned for the advisory industry because I'm seeing a happy-days-are-here-again-mentality. It seems possible that many financial advisors are as vulnerable to losing their clients' money and their last shred of credibility as they were two years ago. I'll turn 80 this year and I've been investing for longer than you have been alive. I am a student of economics. I am very worried about what I see in the current economy.
I believe it is possible that the danger for the economy now is even greater than it was in 2006 when I predicted the top in the housing market. Why would I say that when most all the pundits on Wall Street are calling for an end to the recession either this quarter or surely by the year's end? The answer is this: the U.S., through government fiscal policy and Federal Reserve monetary policy, is attempting to sustain an economic model that simply will no longer work.
This is the economic model of the United States: You have the United States buy everything and you have China produce everything. You have the United States borrow money to pay for those goods and you have China lend the money to our country so that we can finance its purchase.
Where do we stand today and what should we make of it?
1. Thanks to monetary policy, a reflation has taken place in some assets–stocks, commodities, and lower quality bonds. I see this as a mini-bubble but we're almost out of helium.
2. Using taxpayer money, Wall Street is reported to have inventoried oil to the tune of some 90 million barrels.
3. China is inventorying copper and increasing manufacturing capacity through their own stimulus package, while their exports are off 20%. Bubbles anyone?
4. Corporate profits are in less bad shape, but revenues are down 15%. Some time, somehow, revenues must go up to sustain economic recovery, but who will be the buyers? This is where the delusion begins. Corporate earnings are up and its good for the company. But the earnings are up because of cuts in expenses, namely labor. This is bad for the economy as a whole.
5. Washington, as mentioned previously, is making things worse through fiscal and monetary policy.
What, then, will the future look like?
1. Deleveraging must go on, but will be strung out by public policy just as in Japan since 1989 and the U.S. during the 1930s. Deleveraging equals deflation.
2. Bankruptcy will increase on Main Street.
3. There will be pressure on Main Street profits and wages.
4. There is a possibility of social unrest as the rift between the axis of Wall Street/Washington and Main Street widens.
Now ask yourself what has really improved since 2006. Since deregulation of the financial community in 1999, Wall Street has done the following:
1. Wall Street [namely investment banks and money center banks] levered up their portfolios from approximately a 10-to-one debt-to-equity ratio to a 40-to-one debt-to-equity ratio.
2. In so doing, these financial companies like Goldman Sachs and CitiGroup became phantom hedge funds as opposed to first-class allocators of capital to companies that produce real goods and services.
3. These Wall Street were able to run up their debt ratios because they, as a group, were the first to get to the Fed's money trough at interest rates of between 0% and 1%. You and I, of course, as a proxy for Main Street, pay something like 6%.
4. Along with deregulation, management [think Goldman Sachs] took their companies public thereby shifting the risk to the private sector.
5. Another shift in risk away from Wall Street was accomplished by securitizing mortgages, car loans, and many other alphabet soup financial instruments.
6. With the risk offloaded, management paid themselves huge salaries and bonuses, leaving their stockholders what the bird left on the pump handle.
7. Now, of course, Main Street is refinancing Wall Street through their taxes, and they are right at it again (note the recent profits of Goldman Sachs).
8. The way we see it, Main Street has paid twice for the same toxic waste debt instrument and Wall Street collects huge fees with little to no risk. We owned the stocks that went to zero and then we paid to bring these worthless entities back to life with our tax dollars. How is that for a gig, sports fans?
In the meantime, what has happened to Main Street, where the real work takes place?
1. There has been no increase in employment over the last ten years.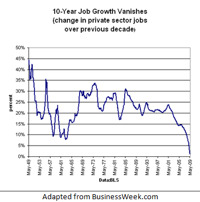 Not much better…
2. There has been no increase in real wages over the last twenty years.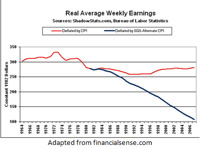 Not so good
3. Partly because of this earnings growth shutdown, Main Street has accumulated too much debt over the last 25 years to maintain its standard of living.
4. Retirement funds have been decimated.
5. Boomers have little to no savings and will have to remain in or reenter the workplace, if they can keep or find a job.
6. Young people entering the workplace (estimated at 125,000 to 150,000 per month) will have difficulty finding a job. The recent increase in the minimum wage won't help this a bit.
And to make things even worse:
1. More government regulation is in store.
2. Higher taxes are a certainty.
What then does an RIA do after reading this gloomy report? Different people have different appetites for risk. I favor investing in long-term U.S. Treasury bonds. I have no doubt that this country will continue to pay its debt obligations. Long-term bonds also serve as a hedge to a stock portfolio. If deflation strikes, long-term bonds can earn handsome capital gains. Their yield will look highly attractive under this same scenario.
The author of this article, Don Peters, is a principal of Central Plains Advisors in Wichita, Kan. See his profile in "About Us."
---
---
---