Ken Fisher: I've said that longer term I'd like to move my headquarters out of California
The world's largest RIA may be moving his headquarters from sunny Silicon Valley, where the tax rates are too high, to the low-cost woods of Washington state.
Ken Fisher's company, Fisher Investments, is now headquartered in a 30,000-square-foot office/home combo on a headland between the Valley and the Pacific Ocean. Locals in Woodside, Calif. call it the cult-on-the-hill.
Mr. Fisher, who has expressed his frustration with California's high tax rates and says he's looked at a number of other low-tax states, won't confirm that Camas, Washington is his choice. But he is building a 150,000-square foot, four-story building with enough space for 800 employees in that small city. A second building of the same dimensions is also being planned.
The founder and principal of Fisher Investments, which has $33 billion of assets under management, hopes the building will be open by 2010. Construction is being slowed by wetlands remediation on the 120-acre plot of land that he acquired. Completion of these regulatory requirements could push the building project's completion to 2011, he says.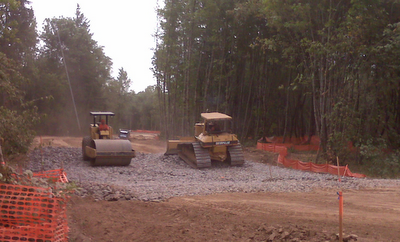 Bulldozers begin laying roads on 120-acre
Camas, Wash, parcel three weeks ago

Because of the scope of the project, local business development official in southeastern Washington hope that Fisher, 58, is moving his world headquarters [Fisher also has offices in London and Frankfurt] to Camas.
Fisher, a fixture in Silicon Valley, can't make any promises to these officials yet because he won't leave his home in California while his mother is still living, he says. He also wants to see how things go with the first building in Washington. "I've said that longer term I'd like to move my headquarters out of California," he says. Fisher says he has researched other states with favorable tax laws and hasn't ruled them out.
Camas officials have reason for optimism that their woodsy environs will top Fisher's list. His firm has already transitioned 200 of its 1,000 employees to leased space in nearby Vancouver, Wash. from Silicon Valley. These people – mostly professionals who earn salaries ranging from $75,000 to $200,000 — will be the first ones to work from the new building.
"Everything we've heard from these people from these employees is that they like it here," says Bart Phillips, president of the Columbia River Economic Development Council, a company the seeks to lure companies to the area. "They're our best salespeople."
Fisher seems to like it, too. Ranked number 281 on the Forbes 400 list for 2008 with an assigned net worth of $1.7 billion, he acquired a $500,000-home in Washington. He also has an office in the Vancouver complex with his employees. Fisher also points out that the Portland International Airport is only 20 minutes away from the new offices. He considers this proximity to be a major advantage.
Virtually all of the Fisher Investments staffers now in Washington formerly worked from his two buildings in San Mateo or his office building [which is also Fisher's home] in Woodside, Calif. The San Mateo buildings are 105,000 square feet and 160,000 square feet.
Fisher generated this wealth by building out his RIA on a national scale. His unique business model calls for heavy direct-mail programs to affluent people across the United States.[In recent years, he expanded to internet, radio, print and television advertising that, for instance, included a 30-minute advertorial with Hal Holbrook as commentator.]
When a prospect expresses interest in Fisher's services, the company assigns them a salesperson. Once the prospect moves assets to Fisher, they are advised almost exclusively by telephone by investment counselors. These advisors are separate from the ones who make the sales. Fisher's large staff is comprised largely of these two types of employees.
Fisher began to migrate his employees to Washington because he is frustrated with California's 9.3% income tax rate for wages over $43,000. Washington has no such tax. California also has among the nation's highest sales taxes and Oregon has no sales tax. Camas is right on the Oregon border.
Not using force
The saving grace for California is that it has low property tax rates but this economic advantage is negated by the much-higher property prices, Fisher adds. His employees are finding that they can buy a comparable house in the Camas area for as much as 75% less than in Silicon Valley.
Fisher himself has not been to Washington for several months, however, because his wife was undergoing replacements of both hips that made air travel difficult for her. She is now walking again.
Fisher will keep a Silicon Valley presence into the indefinite future because he doesn't want to uproot Silicon Valley-based employees against their wills.
"Without using force, I'm going to get as many employees out of here as possible," he says.
But Fisher won't allow employees to use the annual rainfall accumulations along the Oregon border as a pretense for staying in California.
"The weather's not actually nearly as bad as people think it is," he says
---
---