Nevin Freeman: RIABiz webmaster and tech critic at large
Editor's Note: This is the third article in a series about Pershing roll-out of NetX360, the platform designed to work equally well for the management of transaction-based accounts and fee-based accounts. We wrote about how it competes with Schwab and Fidelity in our first article and how substantial broker-dealers are moving hundreds of their reps to use it in place of competitors' technology in our second one. Yet we felt like we ought to go one step further and have a look at NetX360 for ourselves. I didn't feel like I was knowledgeable enough to evaluate it myself so I sought a software expert. It dawned on me I was working with one, Nevin Freeman, every day as I designed my own web site. Nevin made clear that he had no experience with financial technology. I told him we would let readers know about his qualifications and that it would be okay to simply note what he observed. I hope you enjoy reading what he wrote here and that it'll give you better insight into NetX360. -Brooke Southall
There was reason to believe that Pershing had achieved success with its new advisory platform before the demonstration even started.
In its introduction, Pershing let me know that it stores its data for transactional accounts and advisory accounts in the same database. This means that in the past, advisors would use two separate applications (NetExchange Pro and NetExchange Advisor) to access their transactional accounts and advisory accounts, even though they lived on the same server at Pershing.
Now that dually-registered financial advisors are demanding greater unity from their brokerage platforms, this bifurcated setup is proving counterproductive. But because Pershing always maintained a single database, all it had to do was build a new interface to unify the advisor experience, and that's exactly what NetX360 intends to do.
I put my head under its hood to answer some key questions as best I could :
Is the new platform indeed integrated? To what degree can advisors interact with transactional and advisory accounts at the same time, in the same window?
Does NetX360 provide a user-friendly experience that will make it easier to manage more

RIA

assets without adding undue complexity to running their practices?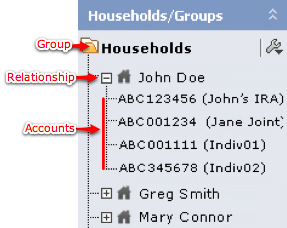 NetX360 relationships and accounts
The bottom line is that both of these questions come down to the same thing: will using NetX360 instead of NetExchange Pro and NetExchange Advisor save time? If you have used NetX360, we'd like to hear your personal answer to this question in the comments section.
What I can see from Pershing's demonstration is that NetX360 has visually melded these two legacy applications. Upon login, the advisor sees a left-side drawer where accounts sit together, organized by "groups" and "relationships." Each client or household is a "relationship", which looks like a folder on your computer, and each account is like a file within one of those "relationships" folders.
And these screenshots help answer the all-important question: can advisors actually can transact both commission-based and advisory accounts under the same login, in the same window, one after another? In a word, yes.
The caveat here is that Pershing is only empowered to meld the two worlds of accounts to the degree that regulators will permit.
This screenshot indicates that Pershing has made major headway in finessing though these challenges . For instance, we can see all accounts for the household in one window, including both advisory and transactional accounts.


Advisory and Transactional accounts in the
same window [see below for full
screenshots]
Not only can the advisor see both types of accounts in the same system, they can also make trades on both. Below, we can see that the trading screens for both show up in the same place, with the appropriate additional options apparent for a transactional account trade.


Advisory and Transactional trading screens [see
below for full screenshots]
As a web-designer, I couldn't help but pay attention to the design of the buttons, windows, and the text used within NetX360. Pershing's software demonstrator pointed out that the menu names were revamped to be more intuitive. The home-screen is now drag-and-drop customizable, and each screen opens in it's own "tab," to help keep things clutter-free. Additionally, NetX360 employs "dynamic entitlement," which means that when an advisor opens any given menu, they will see only the functions they are entitled to use, instead of a long list with many items 'greyed out.' This is in line with the generally-more-sleek look, as compared to NetExchange Pro. For the Novemer 2010 review, see:Nevin looks under the NetX360 hood after it gets 100,000 new users and some overhauling


New windows open in tabs
There are still areas of NetX360 where it leaves room for improvement. For example, when Pershing's software demonstrator went to open a sixth tab, a box popped up to say that she had surpassed the maximum number of tabs open, and would have to close one in order to open another.
I imagine that advisors could find it time-consuming to click "ok," decide which tab to close, and then re-navigate to the menu item that they had wanted to open. This system could benefit from borrowing the method of modern web-browsers that manage the overflow of tabs by storing them on a list on one side. This modification would let the advisor open as many windows as they wanted, and go back and close the unneeded ones at their leisure.
A similar flow-stoppage occurred when Pershing's software demonstrator went to open the "Equity" screen for two accounts at once. We saw another pop-up box that required another "ok" click after an admonishment that "multiple instances of the same screen" were opened.
Since every advisor will likely go to close the current Equity window, and then find the "Equity" menu item again to open it back up for the current account, it may work better if NetX360 brings up the current Equity window and automatically switched it to the new account.
To Pershing's credit, they have included an easy way to give feedback about the software in NetExchange and now in NetX360. We were told that the feedback given in the past was used in the development of NetX360, which brings up an interesting point: should this software run in a web browser? The clear advantage of developing software for the browser is that it can easily be updated overnight and re-deployed without requiring every user to re-install.
Pershing's spokesman, Mike Geller says that eventually his company will make a web-based version of NetX360.
Having seen NetX360 in action, we can see how NetExchange Pro/Advisor have been melded and streamlined. This should yield significant efficiencies and time savings for users and we look forward to seeing how hybrid RIAs take to it as it gets rolled out this month.
For a more detailed technical analysis of NetX360, check out Joel Bruckenstein's review for Financial Planning.
Here are some full screenshots:
Have you used NetX360? Let us know what you think. Do you use NetExchange Pro/Advisor? Let us know what you want to see improved. You can comment below or e-mail me at Nevin@RIABiz.com. Either way, I'll try to respond as well as I can.
---
---
---