News, Vision & Voice for the Advisory Community
The Boston broker makes the move as Pershing's competing hybrid offering wins raves
December 9, 2009 — 6:00 AM UTC by Brooke Southall
After an all-out blitz to make it a household name among financial advisors, Fidelity Investments is quietly disposing of its HybridOne brand.
The Boston brokerage giant has virtually stopped promoting the name it assigned to its combined offering of National Financial Services, its big clearing subsidiary, and Fidelity Institutional Wealth Services, which is where RIAs custody assets.
The purpose of the combined offering to streamline the service and technology experience for brokers who also want to do fee business.
HybridOne was jointly launched in June 2008 by the then-president of National Financial, Norman Malo and the then-president of FIWS, Jack Callahan. Malo is no longer with the company, and Callahan has taken another position with the firm.
HybridOne was known by many people in the advisory industry for its advertising campaign. Its sharp orange and blue logo was ubiquitous on the printed and online pages of virtually every trade magazine from Registered Rep magazine to InvestmentNews from the time of its launch.


This brand got well-known in a
hurry then vanished
"It was huge; everybody had it everywhere" says Robert Ellis, head of the securities industry research practice for Novarica, a financial services consulting and research firm. "They spent a fortune on advertising it."
Progress report
In December 2008, Fidelity issued a progress report showing that it had attracted 104 hybrid clients with $13 billion of combined assets to HybridOne. It also reported that its early adopters included: The Leaders Group, Medallion Advisory Services LLC, Monarch Capital, Mutual Securities, Spire Investment Partners and Strategic Wealth Partners.
Advertisements for HybridOne appear to have stopped running as far back as June or July. HybridOne was still a viable brand when I wrote an article comparing it with Pershing NetX360.[see article] Fidelity still maintains it HybridOne website, which includes videos and an evaluator tool. http://www.fidelityhybridone.com/
But now Fidelity executives are making it clear that their company is shifting gears.
"You're going to hear less from us about a branded HybridOne," says Mike Durbin, head of Fidelity Institutional Wealth Services. He adds: "We're not pushing it right now."
The withdrawal of HybridOne from marketing view reflects the desire of Fidelity to streamline its branding in the marketplace, according to Charles Goldman, head of institutional platforms at Fidelity.
Confusing
"Having four, five or six brands is confusing and expensive," he says. "People want to do business with Fidelity."
The costs of supporting a brand include advertising, a website, marketing materials and even including it on client statements, according to one source.
The four brands RIAs typically associate with Fidelity are: Fidelity Investments, National Financial Services, Fidelity Institutional Wealth Services and WealthCentral. HybridOne made it five brands.
The emergence of NetX360– the blending of the clearing business and RIA platform of Pershing LLC of Jersey City, N.J. – in August may also have hastened Fidelity's withdrawal of the HybridOne brand, according to Ellis of Novarica.


This brand has its fans
"Whether or not [HybridOne] was elegant or perfectly integrated, it was a bridge solution to the way advisors seem to want to do business today," he says, noting that it provided advisors with access ot fee-based and transactional products and services. "Then they kind of got leapfrogged by Pershing" when it rolled out NetX360.
NetX360 has the edge
Ellis, who says he has helped brokers to join each of the platforms, is not alone in his view that NetX360 has the edge over HybridOne.
In August RIABiz published an article entitled: Two broker-dealers pick Pershing for hybrid tech after HybridOne comparison In that article executives at Capital Analysts Inc. of Cincinnati and First Allied Securities Inc. of San Diego discussed how NetX360 was the major reason they moved their accounts to Pershing.
"What drove us to Pershing [from Fidelity] is that they broke down the borders between the [broker-dealer and custody] sides without the artificial limitations of the old regulatory structure," said Matt Lynch, CEO of Capital Analysts in the earlier interview.
Long-term HybridOne users like David Blisk, of Spire Investment Partners, still have faith that Fidelity can integrate its brokerage and advisory platforms, regardless of how they brand it.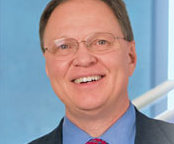 David Blisk: We're still optimistic [HybridOne]
will be advanced one day and
we're on board to facilitate that.

"We're still optimistic it'll be advanced one day and we're on board to facilitate that," he says. "A unified workstation would be great."
New relationship
Blisk adds, however, that he has opened a new relationship with Pershing so that his advisors have the option of using NetX360. Spire has 29 teams in 16 locations comprising 49 consultants. His company advises clients with about $1.5 billion of assets.
Fidelity still has the advantage, according to Goldman.
"We believe we have the best platform to accommodate being in whatever model," he says.
Fidelity is more likely to satisfy existing hybrid clients with its current clearing and custody offering because it performs the basic functions it needs to, Ellis says
It may find the going more challenging when it goes head to head with clients testing Pershing and Fidelity head to head for the first time, he adds.
"Marketing only gets you so far," Ellis says. "Sooner or later, customers will look at the product and say: this is not what's promised."
---
---
Share your thoughts and opinions with the author or other readers.
JPM said:
December 9, 2009 — 9:36 PM UTC
please make your articles able to be printed. simply a print option would be very helpful.
---
---