Marty Kurtz: If we make all the health decisions about money, it's pretty hollow
The knock on the door came at about 9:20 p.m. on Sunday. Snow covered the ground in Moline, Ill.
Marty Kurtz opened his front door to see a strange man standing there.
"I cut my hand off," said the man. "I need some help."
Kurtz is a big man, the owner of a small advisory business – the Planning Center – and the husband of a psychotherapist. He recognized that the man had attempted suicide by slicing his wrist.
Kurtz called 911, got some towels to wrap around the man's bleeding wrists, and talked to him reassuringly while they waited for the ambulance.
"It was lucky I was there to help him," says Kurtz, who is also the president-elect of the Financial Planning Association for 2010.
Historic reform
The incident is on his mind this week as he watches events unfold half-a-country away in Washington, D.C., where the U.S. Senate on Christmas Eve morning passed a historic health reform measure.
Though I'm eager to enjoy the holidays, I can't ignore the pending health care reform. I've been writing about health care for small businesses for more than 15 years now.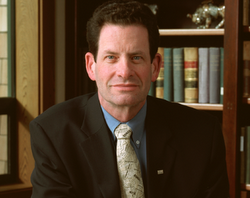 Ken Fisher: "The people who are
productive already have insurance. It's not
politically correct to say so, but
there's a whole portion of our
society that is unemployable."
Momentous change is in the air – and the moment seemed right not only to review the parts of the legislation that might be of particular importance to small businesses like RIAs, but to ask a few advisors what they hope for from health care reform.
Strangely for an industry that is mainly concerned about money, I found them thinking about health reform from ethical and philosophical points of view.
Kurtz, for instance, is well aware of health care costs – he provides coverage for himself and five employees — but the costs are not his primary concern. Rather, his mind is on how to fix the holes in the system that allow people like the man in his door to slip through – and land bleeding on a stranger's doorstep.
"There are some big decisions to be made, but if we make them all about money, it's pretty hollow," he says.
He hopes that the reform bill prompts more cooperation. "I hope the different pieces of the system start moving together," he says.
It's clear that the reform is the beginning of a years-long process of change. First, of course, the bill must be merged with legislation produced by the House of Representatives, passed by both Chambers and signed by President Barack Obama.
Direct impacts
Presuming the merged bill is approved and signed, RIAs will face some direct impacts. Changes are likely to be phased in beginning in 2010, though mandates and penalties don't begin until 2012 at the earliest.
Among the most important implications for RIAs in the health reform bills:
• As high-income earners, many RIAs are likely to see their taxes rise, either directly in the form of income taxes, or in higher taxes on so-called Cadillac health plans.
• Like all small businesses, RIAs will face mandates and penalties depending on their size. In the House bill, any business with a payroll of more than $500,000 must pay for the bulk of premium costs for individuals and their families. The Senate bill says that businesses with more than 50 employees must offer coverage; if they don't, they would most likely have to pay a per-employee fine. According to the Investment Adviser Association's annual survey, the typical RIA employs five people, though some are much larger.
Both bills offer some tax credits, but they are targeted at the smallest business in low-paying industries.
• Again like any small business, RIAs may be eligible to buy insurance through new exchanges that are being created, where insurance companies will offer simplified plans that could be cheaper than on the open market.
• Some kinds of insurance may be disqualified either from being sold in the exchange or the open market. Of particular interest to small business: Experts from the National Federation of Independent Business and America's Health Insurance Plans say that it's unclear whether high-deductible health plans coupled with health savings accounts will qualify under new federal minimums.
Community rating
• And, depending on the already-existing regulations in the states where they live, and the particular people they have working for them, RIAs may benefit or be harmed by new insurance regulations that prevent insurance companies from using age or health condition to set premiums. Such measures – called community rating – tend to increase average costs but help people who are older or have pre-existing conditions.
• RIAs will have a leg up on other kinds of small businesses: RIAs are used to coping with paperwork. The reform is expected to produce another layer of administrative burden to small businesses, who will have to show the federal government what they are doing – or not doing – when it comes to offering health insurance.
As highly profitable small businesses, RIAs that I've talked to tend to come at the issue of health reform from a philosophical and ethical point of view, like Kurtz. They build the cost of providing health insurance to themselves and their employees into their fees, and their clients cope.
Ken Fisher, who runs the world's largest RIA with $36 billion in AUM, says that because his company, Fisher Investments, has long provided insurance and is self-insured for costs up to a half-million dollars, he doesn't expect reform to affect him directly.
His concern is a societal one. The reform will be pouring money into people who won't ever be productive.
"The people who are productive already have insurance," he says. "It's not politically correct to say so, but there's a whole portion of our society that is unemployable. People would rather hire a baboon than most of these people."
He acknowledges that his argument is "cold," and that there are exceptions. But on balance, he says, the money that will be spent on health reform would be better spent elsewhere, especially in the schools.
"We would be better of as a society working on the human capital in the next generation," he says.
One thing advisors agree on: They see the passage of reform as the beginning of the change of the system, not the end.
Ric Edelman, a Northern Virginia-headquartered RIA with more than 200 employees and $4.4 billion in AUM, said "I only hope the legislation helps the nation and our clients, and I'm not convinced yet of either."
Cheat sheet
On this page, you'll find a cheat sheet of links to information about the Senate plan. I found the detailed summary about halfway down the page helpful.
The office of House Speaker Nancy Pelosi released this information about small business provisions in the House bill.
---
---
---
Betty Bigg
January 7, 2010 — 2:47 PM
Ken Fisher! Is this the same Ken Fisher who told us that the subprime mortgage mess would have no impact on the larger economy? If so, that means that health insurance reform will probably be a good thing!
Adam K.
January 12, 2010 — 4:20 AM
I'm not sure who Betty Bigg is referring to. This Ken Fisher referred to in this article is the one who wrote a Forbes article with the title "Anticipate the V", talking about a V-shaped end to the bear market, which then happened in March. He's also the same one who in Forbes has been talking up emering markets, consumer discretionary stocks, tech stocks and materials stocks, which have been the best areas to invest this year. Lots of Ken Fishers. Best to keep them straight.