Andy Hyer: Blogs help promote an advisor's business without being pushy.
"Blogging: A Financial Advisors Opportunity," by Andy Hyer, CIMA®, CMT, was originally published in Investment Management Consultants Association's November/December 2009 issue of Investments & Wealth Monitor. To access more articles, visit IMCA's Web site: www.imca.org
The J.D. Power and Associates 2009 U.S. Full Service Investor Satisfaction Study reveals that the financial advisor is the most important aspect of overall investor satisfaction, accounting for 30% of this satisfaction in 2009, an increase from 22% in 2008. In contrast, investment performance declined in importance and accounted for only 15% of overall satisfaction in 2009, compared with 24% in 2008.1
Having a personal connection with clients is increasingly important. Blogging is one effective way for financial advisors to communicate investment philosophy and keep in touch with clients.
What's a Blog?
Around the start of this century, a few programmers and other geeks started writing about their lives on their Web sites. They posted about the cool things they discovered on the Internet as well as pictures of their families and their pets. They dubbed these posts "Web logs," later conflating the term to "blog." Today, blogs are a mainstream and global phenomenon. In the United States, unique blog visitors number 77.7 million.2 The number of blogs doubles about every six months.3 Bloggers discuss everything.
Wikipedia defines a blog as a Web site, usually maintained by an individual, with regular entries of commentary, descriptions of events, or other material such as graphics or video. As the blogosphere grows in size and influence, the boundaries between blogs and mainstream media are blurring.
Decline of Traditional Media, Rise of Blogs
During the past two decades, sources of media information have broadened beyond network television and national newspapers to include talk radio, new networks, cable television, and the Internet—particularly the Internet. The 2009 Pew Internet & American Life Project reports that significant percentages of Americans of all ages rely on the Internet for information (see table 1).4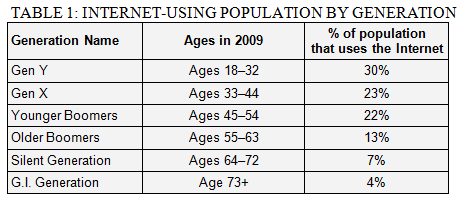 The Backdrop
While young people use the Internet the most, older people are using it more, too. In fact, the biggest increase in Internet use since 2005 can be seen in the 70–75 year-old age group.
This information source fragmentation is a positive development for financial advisors. Investors trying to understand recent financial events are flocking to financial blogs; some popular financial blogs are attracting 50,000–100,000 page views a day.5
Community
Psychologists have long studied the human need for community.6 Psychologist Seymour B. Sarason proposed that psychological sense of community "is one of the major bases for self-definition."7 Blogs can help fill the need for community. Here are six ways in which blogging can provide a means to cultivate communities:8
Financial advisors find that blogs provide a new way for them to stay relevant to customers. Clients are bombarded with messages about financial markets, some of which, if acted upon, can lead to poor investment decisions. Blogging allows a financial advisor to demonstrate financial expertise on important topics and become the source of guidance for clients.
Differentiation is important for retaining and attracting business. A blog lets an advisor explain how he or she differs from the competition.
Blogs help promote an advisor's business without being pushy. A financial advisor can blog about challenges facing investors and provide commentary about services in an educational rather than marketing manner.
Thought leaders use blogs to share expertise and experiences, providing readers with current information. This communication that emanates from a person rather than a firm seems more human. When someone blogs over an extended period of time, it's impossible for their personality not to come out. When people read your blog, they feel like they know you.
Blogs are global by nature and reach a worldwide audience. Although communities often connote closeness among members, it needn't be geographic in nature.
Blogs provide an opportunity for ordinary people to voice their opinions. Blogging allows financial advisors a deeper understanding of clients' likes, dislikes, interests, and concerns, and an opportunity to respond to or address comments.
What Makes a Good Blog?
Like most aspects of the financial services industry, blogging is a meritocracy. One person's definition of a good blog will be different than that of the next. Don't blog to appeal to some imaginary "blog expert;" blog to make a positive difference in your clients' lives and on your business.
My favorite blogs have two important traits, however. First, they reflect a focused obsession; people start a blog because they think about something a lot. Second, my favorite bloggers are disciplined and committed to working harder than the competition to make frequent and thoughtful posts. If clients and other readers don't feel like they get timely insight from one blog, they will go elsewhere. As with most things, if bloggers aren't committed to doing the job well, then it's probably better they not do it at all.
Compliance
Information about compliance constraints on blogging can be found on the Web sites of the Financial Industry Regulatory Authority (FINRA, https://www.finra.org/Industry/Issues/Advertising/p006118) and the Securities and Exchange Commission (SEC, https://www.sec.gov/rules/interp/2008/34–58288.pdf) or from a compliance consultant. The following points touch on the main compliance issues to be aware of when blogging.
Registered Investment Advisor. 
From a compliance perspective, blogging is advertising and should be treated as such under the advertising rules. [For more on this subject, read: Social media can turn regulatory exam into fiery wreck by Les Abromowitz.] The Investment Advisers Act of 1940 outlines the following areas of advertising, which are deemed fraudulent, deceptive, or manipulative:
Testimonials are prohibited.
Past specific recommendations, performance advertising, graphs/charts/formulas, and statements of free services are restricted, and conditions must be met, to be in compliance.
The Act contains a general anti-fraud prohibition against any statement "which contains any untrue statement of material fact, or which is otherwise false or misleading."
Touting stock to manipulate the market is prohibited.
Registered Representatives. FINRA advertising rules state that communications with the public must:
include no false, exaggerated, unwarranted, or misleading statements or claims;
be based on principles of fair dealing and good faith, be fair and balanced, and provide a sound basis for a customer to evaluate the facts regarding the product or service being offered;
disclose all relevant material facts without omission;
not contain legends or footnotes that would inhibit an investor's understanding of the communication;
make no predictions or projections of performance, imply that past performance will recur, or make any exaggerated or unwarranted claim, opinion, or forecast; and
prominently disclose the name of the firm on advertisements and sales literature.
Furthermore, Internet communications are subject to record-keeping requirements. A financial advisor likely needs e-mail archival software to ensure retention and retrievability of Internet communications.
Conclusion
Blogging poses risks and challenges for financial advisors. But the risks and costs of not blogging are rising, too.
Clients these days are demanding better communication from their financial advisors. Blogging provides a unique and useful platform for communicating with clients and prospects effectively and efficiently, especially as traditional forms of communication are becoming increasingly irrelevant. Indeed, many people already check their favorite blogs instead of or in addition to reading a newspaper or watching television. Financial advisors who are willing to enter the blogosphere will reach a broader audience and strengthen their client relationships.
Andy Hyer, CIMA®, CMT, is marketing coordinator at Dorsey Wright Money Management, where he contributes to the firm's blog, www.systematicrelativestrength.com. 
He earned a BS in finance and economics from Utah State University. Contact him at 
andyh@dorseywright.com.
1 Role of the Financial Advisor is Increasingly Important to Investor Satisfaction, J.D. Power and Associates (July 21, 2009), available at https://www.jdpower.com/corporate/news/releases/pressrelease.aspx?ID=2009128.
2comScore MediaMetrix (August 2008) in Phillip Winn, State of the Blogosphere: Introduction (August 21, 2009), available at https://technorati.com/blogging/article/state-of-the-blogosphere-introduction.
3Bob Walsh, Clear Blogging: How People Blogging Are Changing the World and How You Can Join Them (New York: Apress, 2007).
4Sydney Jones and Susannah Fox, Generations Online in 2009 (January 28, 2009), available at https://www.pewinternet.org/Reports/2009/Generations-Online-in-2009.aspx.
5Kelly Evans, The New Stars of the Blogosphere, Wall Street Journal (July 16, 2009), available for subscribers at https://online.wsj.com.
6D. W. McMillan and D. M. Chavis, Sense of community: A definition and theory, American Journal of Community Psychology 14, no. 1 (1986): 6–23.
7Seymour B. Sarason, The Psychological Sense of Community: Prospects for a Community Psychology (Hoboken, NJ: Jossey-Bass, 1977).
8This list is inspired by the research of Tanuja Singh, Liza Veron-Jackson, and Joe Cullinane, Blogging: A new play in your marketing game plan, Business Horizons 51, no. 4 (July-August 2008): 281–292, available at www.sciencedirect.com.
---
Mentioned in this article:
---
---
---