News, Vision & Voice for the Advisory Community
Professor says 401(k) system is biased against women
December 15, 2009 — 4:24 AM UTC by Elizabeth MacBride
Elizabeth's note: Interviewing Paula Monopoli spurred me to check my retirement plan balances against my husband's. I left my last traditional job in 2004, when we had our first daughter. He's had jobs with two big consulting firms since then, both with nice 401(k) matches. The result is that his balances are slowly creeping up past mine. Of our family's retirement assets, 46% are in my name, and 54% in his. We each direct the investing in our separate accounts. So what will I do if current trends continue and he ends up with the bulk of the assets in his name? Frankly, I'm not sure — we have such different ideas about investing.
The husband-wife team of Carolyn and Mark Stys started Bluemont Capital Advisers a year ago, leaving behind two high-powered careers in financial services.
He'd worked for big mutual fund companies, including Fidelity. She'd worked at State Street and Investors Bank and Trust. They'd both climbed respective ladders, she in IT and operations, he in investments.
Her career, however, was broken up by the arrivals of the couple's three boys. When they moved, it was for his jobs.
And here's an interesting fact: He now has 10 times more in retirement assets than she does.
The Stys' situation is typical. The disparity between the amounts held by husbands and wives in their retirement plans led a University of Maryland School of Law professor to put forth a radical idea in a new Yale Law Journal Online article: that the 401 (k) system is inherently biased against women and ought to be changed to give wives a stronger claim, or even an equal right to, the money going into their husbands' retirement accounts.
Paula Monopoli is making her recommendations just as Congress seems poised to take up retirement reform in the wake of the financial crisis.
The plans are half empty
Research shows that women end up with much less in their retirement plans than men because women take time out of their careers for family responsibilities, In addition, they still earn less than men on average for the same work. As a result, the median female worker near retirement holds $34,000 in a retirement plan, whereas her male counterpart holds $70,000, according to the Retirement Security Project.
Under ERISA, assets in a 401 (k) are held in the worker's name only and cannot be transferred to another person tax-free, even to a spouse. Monopoli points out the contradiction between the way ERISA treats retirement assets and the way well-established marital law does.
After death or in divorce, retirement assets built up during a marriage are treated as joint property, like a couple's home. Details can differ state-to-state, and the apportionment of retirement assets during a divorce can get particularly messy depending on the complexity of the investments and the extent to which a spouse has a claim on the future value of benefits, but usually, they are split 50/50.
Monopoli argues that ERISA should treat retirement assets more like marital law does.
"Why does facilitating an equal allocation of retirement plan balances matter in intact marriages?" she writes. "First, the law has an expressive dimension and it should value care giving and equality as a matter of fairness and justice. Money equals power within a relationship and power asymmetry yields inequality.
"Encouraging a disproportionate accumulation of assets by the husband, even if unintended as a policy matter, signals that the spouse – typically the wife – who provides the bulk of the family care giving makes a less valuable contribution.
Second, limiting the ownership of defined contribution plans to a single spouse subjects the other spouse to greater risk in terms of the overall family wealth."
She says that putting assets under the control of both spouses would lower the risk and be more fair because it would allow the spouse whose name wasn't on the account, but who has an ownership interest in it, to have a say in the investing strategies.
Who decides?
Men and women do have different investing styles, with women tending to be more conservative. For instance, a Fidelity study, released in June, of 500 Baby Boom and older couples, found that 73% of husbands and 64% of wives felt they should "stay the course" during the financial panic. The same survey found that only 38% of husbands and wives jointly discussed investment decisions about retirement accounts.
The disparity in assets and the potential differences in investing styles raise a host of tricky issues for RIAs.
For purposes of estate planning, RIAs have developed work-arounds for the disparity in retirement assets. "It does get kind of tricky," said Greg Womack, of Womack Investment Advisers, an Edmond, Oklahoma-based firm with $65 million in AUM. He sets up credit shelter trusts to receive a husband's IRA so that both parties can take advantage of the federal exemption to avoid estate taxes.
He doesn't recall a time when a wife had an objection to investment decisions for a husband's retirement account. "At least, they didn't say anything," he said.
Yet, there may be cases where interests of a couple clearly diverge – for instance, if a husband is considerably older than his wife.
By regulation, an RIA owes a fiduciary duty to the client who signs the paperwork. But as a practical matter – and probably as an issue of common law, says Ron Rhoades, director of research for Florida-based Joseph Capital Management – RIAs see an entire family as a client unless they are requested not to. That means they try to balance the needs of all the family members.
Monopoli would reform the system with one or more of the following ideas. She says that as retirement assets are earned, they should be spit and divided into two separate accounts, or put into a jointly held account. At the least, she says, ERISA should be changed to allow tax-free transfers between spouses. She plans to write a longer paper laying out in more detail which solution she believes is best.
A solution mandated by law that would split assets or make accounts joint probably would require a general recognition that society is still stacked against women. Clearly, there's no consensus on that point. Consider the Stys' response to the question: Is the disparity in retirement assets a reflection of inequality in our society?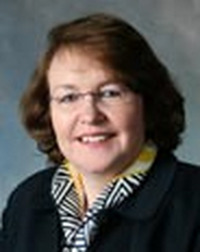 Carolyn Stys: I'm far more conscious
of the sisterhood than I used
to be.
"No," said Mark immediately.
"Oh, how convenient," said Carolyn to her husband. "Thanks for sharing."
Mark argued, "Society is working these issues out." He noted that in this recession, men are being thrown out of work more than women. Great Falls, Va.-based Bluemont, which manages about $20 million, is working with a couple where the wife is a pilot and the husband is a schoolteacher: opposite the stereotype.
How she sees it
After he'd said his piece, Carolyn put forward a more nuanced view. Laughingly defining herself as "a girl," she noted that she'd often been the only woman on a trading floor.
As part of the course work for a certification to counsel people in the midst of a divorce, she recently looked at the language that created Social Security. She winced at the words, which made it clear that the wife was always expected to be the lesser earner.
"I have never been a brow-beating feminist," she said. "But I'm far more conscious of the sisterhood than I used to be."
Maybe retirement plan assets should be jointly held."
For your further reading:
Monopoli's article in Yale Law Journal Online
---
---
Share your thoughts and opinions with the author or other readers.
Miguel said:
December 16, 2009 — 2:56 AM UTC
Does either married partner name matter in the 'common property' states? In my state of California I'm told everything is owned 50/50 anyway regardless of the name on the envelope.
Gary MacQueston said:
December 16, 2009 — 2:12 PM UTC
She says "Society is still stacked against women" and "I'm far more conscious of the sisterhood"... I think she has an axe to grind. So retirement assets should be jointly held? Bank accounts, brokerage accounts, IRAs, securities, real estate, etc. are not required to be jointly held – I don't hear complaints about them, are they next? If women had higher 401(k) account balances than men, I'll bet she'd fight against joint ownership.
Nevin Freeman said:
December 16, 2009 — 2:52 PM UTC
I just want to point out that the "She" Gary refers to here is two different people.
Elizabeth, the writer of the story, said "A solution mandated by law that would split assets or make accounts joint probably would require a general recognition that society is still stacked against women. Clearly, there's no consensus on that point."
And Carolyn siad: "I have never been a brow-beating feminist,... but I'm far more conscious of the sisterhood than I used to be."
Sam said:
December 16, 2009 — 11:16 PM UTC
I looked and have not found the ERISA rules that say only men are allowed to control retirement plans. I'm left to conlude the professor and/or author could be exaggerating. I am aware of practical reasons why the working spouse has legal title to his or her account since it coordinates with an employer's payroll system. In my view this does not make 401(k) plans (or payroll systems) sexist.
A spouse who takes a break from his/her career, for whatever reason, likely will have a lower 401(k)account balance. In my view, this result has nothing to do with a bias toward males under ERISA, but is a consequence of not being paid. (I concluded this by observing that men who leave their jobs also stop receiving a paycheck.) However, if the "sisterhood" comes to see itself as disadvantaged, there are many ways they can respond, as demonstrated by Ms. MacBride's own investigation of her husband's 401(k) account. (It's unfortunate that it took this interview to create a sufficient degree of interest to motivate her to inquire. Evidently Mr. MacBride,presumably out of respect for his wife and not because of a threat of Congressional action, was willing to share the information.)
Any legal change would be symbolic ("expressive" was professor Monopoli's term). The cost of compliance (which employers will try to pass along to married workers, to the disadvantage of both the husband and wife) is real.
Ron said:
April 26, 2011 — 4:01 PM UTC
[comment removed by admin]
Joe said:
April 27, 2011 — 1:00 PM UTC
The argument for joint "ownership' of ESRPs makes no sense at all, and there's no inherent inequality in the system. If a woman is primary breadwinner in the house and her husband is a stay at home dad, then she'll be the one building the significant 401k balance. Does he, then, have a right to control these assets? No. The industry isn't designed to generate family wealth; it's designed to give workers an option to save for their retirement. There's no need for spouses of any kind of be "joint" owner of a DC account. Now, if the couple divorces, the 401k plan balance may become an issue of a settlement (she gets the house, he gets to keep this 401K), but that's another story entirely.
Richardoa said:
June 3, 2015 — 7:47 AM UTC
http://www.10dollars.us/
http://www.925jewelry.us/
http://www.abercrombiefitch.net.au/
http://www.abercrombieoutlet.ca/
http://www.abercrombieoutlet.clairemurray.us/
http://www.abercrombieoutlet.clothing/
http://www.abercrombieoutletc.us/
http://www.abssice360.fr/
http://www.afoutlet.us/
http://www.asicsshoes.com.au/
http://www.changepoints.co.uk/
http://www.clairemurray.us/
http://www.clkbenz.com/
http://www.coachoutletstoreonline.ca/
http://www.donedhardy.us/
http://www.donedhardyshop.us/
http://www.fitflopsonline.us/
http://www.ghd-straightener.com.au/
http://www.hollisteroutlet.us/
http://www.hugo-boss.us/
http://www.hugo-boss-uk.co.uk/
http://www.hugobossuksale.co.uk/
http://www.jack-wolfskin.us/
http://www.jack-wolfskin-outlet.com/
http://www.katespade.changepoints.co.uk/
http://www.louis-vuitton-outlet.ca/
http://www.louisvuittonoutletonline.com/
http://www.louisvuittonoutletsm.com/
http://www.louisvuittonperfect.com/
http://www.nike-free-run.us/
http://www.nikejordan.co/
http://www.outletsales.us/
http://www.paul-smith-uk.co.uk/
http://www.piratesystem.us/
http://www.sacs-louis-vuitton.fr/
http://www.salomonshoes.us.org/
http://www.asicsrunningshoes.eu/
http://www.mizunoshoes.us/
http://www.mizunoshop.us/
http://www.1574.org/
http://www.2013abercrombieoutletmall.com/
http://www.abercrombieoutlet.org/
http://www.abercrombie-outlet.us/
http://www.abercrombieoutletsales.net/
http://www.abercrombieoutletsales.us/
http://www.abercrombiepariseemagasin.com/
http://www.abercrombiesparis2.com/
http://www.abercrombieus.com/
http://www.asics-gel-kayano.com/
http://www.asics-shoes.ca/
http://www.asicsshop.us/
http://www.autocal.co.uk/
http://www.belstaffjacketuk.co.uk/
http://www.canadagoosesoutlet.ca/
http://www.caripoddock.net/
http://www.titanwatches.co.in/
http://www.coach-factory-outlet.ca/
http://www.coach-handbags.com.au/
http://www.coachoutlet5.com/
http://www.coachoutletonline.ca/
http://www.coach-outlet-online.ca/
http://www.coachoutletonlinein.us/
http://www.coachoutlets.ca/
http://www.coachoutletsstoreonlines.ca/
http://www.fitflops-sale-uk.co.uk/
http://www.hervelegerdresssale.us/
http://www.hollisteruk.us/
http://www.katespadeok.com/
http://www.kate-spade.org/
http://www.kors-outlet.com/
http://www.louisvuittonfactoryhandbag.com/
http://www.louisvuittonfactoryoutlet.us/
http://www.louisvuittonoutlet2.us/
http://www.louisvuittonoutletvip.us/
http://www.louisvuittonwebsites.com/
http://www.michael-kors.ca/
http://www.michaelkorsoutlet.ca/
http://www.michael-korsoutlet.ca/
http://www.milano-abercrombie.it/
http://www.mizuno-wave.com/
http://www.nike-arimax.com/
http://www.nikeshoxcheap.com/
http://www.niketrainers90.co.uk/
http://www.outletpics.com/
http://ralph.lauren-polo.us/
http://www.popular-sunglasses.com/
http://ralph.laurenpolo.us/
http://www.sandlertraining.co.uk/
http://www.shoplouisvuittonoutlets.com/
http://www.sunglasses-onsale.com/
http://www.timberlandboots-sales.com/
http://www.tovillage.org/
http://www.uggboots.org.au/
http://www.uggscheapboots.org/
http://www.vship.us/
http://www.webtasarimduzce.com/
http://www.wholesale-brand-shoes.com/
http://www.abercrombieandfitch4s.us/
http://www.abercrombieandfitchoutlet.us/
http://www.anfoutlet.us/
http://www.asics-shoes-au.com/
http://www.famousbrandshoes.net/
http://www.fastwareonline.com/
http://www.katespadeoutlet8.co.uk/
http://www.louisvuitton-outlet-mall.us/
http://www.michael-kors.net.au/
http://www.sitesecurityverification.com/
http://www.sqlable.com/
http://www.wholesaleabb.com/
http://www.michaelkorssale.ca
http://www.michael-korscanada.ca
http://www.michael-kors.net.au
http://www.louisvuittonbags.com.au/
http://www.airjordanretroshoes.us/
http://www.asicsonlinesale.com/
http://www.balenciaga-online.net/
http://www.borselouisvuittons.it/
http://www.bottega-veneta-outlet.us/
http://www.burberryfemme.fr/
http://www.burberryoutlet.ca/
http://www.chaussureadidas.fr/
http://www.chaussureschristianlouboutinfr.fr/
http://www.christianlouboutins.us/
http://www.christianlouboutinshoes.ca/
http://www.christian-louboutin-shop.us/
http://www.fitflop-singapore.com/
http://www.fitflops-singapore.com/
http://www.guccihandbags.us/
http://www.hermesoutlet.us/
http://www.isabel-marant-sneaker.us/
http://www.jordan-pas-cher.fr/
http://www.michaelkors.com.co/
http://www.michaelkorscanadashop.ca/
http://www.michael-kors-outlet.co.uk/
http://www.michaelkors-outlet-online.us/
http://www.michaelkorsoutletonline-2012.net/
http://www.monclerdoudounefrance.fr/
http://www.moncleroutletspaccio.it/
http://www.nikeshop.co.uk/
http://www.oakley-australia.com.au/
http://www.oakleysunglasses.net.au/
http://www.oakley-sunglasses.net.au/
http://www.ray-ban-sunglasses.ca/
http://www.ray-ban-sunglasses.com.au/
http://www.abercrombiefitch.nl/
http://www.burberry.outlet-sale.us/
http://www.burberryoutletsales.us/
http://www.michaelkorsaustralia.net/
http://www.oakley.outlet-mall.us/
http://www.michael—kors.co.uk
http://www.michaelkors-outlet.us
http://www.michael-kors.com.au
http://www.abercrombie.net.in/
http://www.airjordannike.us/
http://www.abercrombie1.creditwoman.com/
http://www.adidas1.creditwoman.com/
http://www.air-jordan-retro.us/
http://www.airjordanretro11.net/
http://www.air-jordan-shoes.us/
http://www.hermesbags.us/
http://www.hermeshandbags.us/
http://www.jordan.outlet-mall.us/
http://www.jordan2.outlet-mall.us/
http://www.jordan-retro.us/
http://www.jordan-retro-shoes.us/
http://www.louis-vuitton-bags.us/
http://www.louisvuittonoutlet.co/
http://www.louisvuittonoutlet.info/
http://www.louis—vuitton—outlet.net/
http://www.louisvuittonoutlet.org/
http://www.louisvuittonoutlet2013.us/
http://www.louisvuittonoutletmall.us/
http://www.louisvuitton-outletsale.us/
http://www.louisvuittonoutletsc.com/
http://www.louisvuitton-uk.co.uk/
http://www.michael-kors-outlet.ca/
http://www.nike-air-jordan.us/
http://www.nikeairjordanshoes.us/
http://www.nike-factory-store.us/
http://www.nikejordan.us/
http://www.nike-jordan-shoes.us/
http://www.nikejordanshop.us/
http://www.prada-handbags.org/
http://www.nikejordan.co.uk/
http://www.burberry-outlet-canada.com/
http://www.burberry-outlet.ca/
http://www.burberryfactoryoutletstore.us/
http://www.burberryoutletsale.us/
http://www.jimmy-choo.com.au/
Kuldeep Nanda said:
May 17, 2016 — 12:18 PM UTC
Packers and Movers Pune #
http://www.movers5th.in/packers-and-movers-pune/
Packers and Movers Mumbai #
http://www.movers5th.in/packers-and-movers-mumbai/
Packers and Movers Bangalore #
http://www.movers5th.in/packers-and-movers-bangalore/
Kuldeep Nanda said:
May 17, 2016 — 12:19 PM UTC
Packers and Movers Gurgaon #
http://www.movers5th.in/packers-and-movers-gurgaon/
Packers and Movers Hyderabad #
http://www.movers5th.in/packers-and-movers-hyderabad/
Packers and Movers Delhi #
http://www.movers5th.in/packers-and-movers-delhi/
Kuldeep said:
May 17, 2016 — 12:20 PM UTC
Packers and Movers Noida <code> http://www.movers5th.in/packers-and-movers-noida/ Packers and Movers Chennai </code>
http://www.movers5th.in/packers-and-movers-chennai/
Packers and Movers Navi Mumbai <code> http://www.movers5th.in/packers-and-movers-navimumbai/ Packers and Movers Thane </code>
http://www.movers5th.in/packers-and-movers-thane/
Packers and Movers Ghaziabad <code> http://www.movers5th.in/packers-and-movers-ghaziabad/ Packers and Movers Faridabad </code>
http://www.movers5th.in/packers-and-movers-faridabad/
Kuldeep Nanda said:
May 17, 2016 — 12:21 PM UTC
Packers and Movers in Hyderabad <code> http://www.moveby5th.in/packers-and-movers-hyderabad.html Packers and Movers in Pune </code>
http://www.moveby5th.in/packers-and-movers-pune.html
Packers and Movers in Bangalore <code> http://www.moveby5th.in/packers-and-movers-bangalore.html Packers and Movers in Mumbai </code>
http://www.moveby5th.in/packers-and-movers-mumbai.html
Packers and Movers in Delhi <code> http://www.moveby5th.in/packers-and-movers-delhi.html Packers and Movers in Gurgaon </code>
http://www.moveby5th.in/packers-and-movers-gurgaon.html
---
---