News, Vision & Voice for the Advisory Community
Recovery of Genworth's share price from penny stock status removes block to asset growth
November 5, 2009 — 4:57 AM UTC by Brooke Southall
Genworth Financial Wealth Management is growing like it did in the good old days.
The Pleasant Hill, Calif.-based turnkey asset management program provider is gathering assets at a rate of roughly $1 billion per quarter [down from a high water mark of about $1.25 billion per quarter before the downturn], and its assets under management have recovered to about $18 billion [the level had once ballooned to more than $20 billion]. TAMPs are used by financial advisors who choose to outsource the management their assets.
"Business has really begun to solidify,"says Ron Cordes, co-chairman of Genworth Financial Wealth Management, a subsidiary of Genworth Financial Inc. of Richmond, Va. "The advisors that we work with are really going on the offensive." Genworth works with about 5,000 financial advisors – most of whom are hybrid RIAs working with independent broker-dealers — and its sales are primarily concentrated among its top 1,000 customers.
Cordes' business unit must be doing something extraordinary to collect assets from its customers at its current rate, according to Charles "Chip" Roame, managing principal of Tiburon [Calif.] Strategic Advisors.
Stunning
"I think the market has helped [all TAMPs] but frankly, $1 billion per quarter [of new assets] is stunning for a firm his size, so he's doing something right," he says.
Other prominent TAMP providers include SEI Investments and Russell Investments. When Genworth Financial acquired AssetMark Investment services in 2006, Cordes stated that his goal to Brooke Southall [yes, me] at InvestmentNews. He wanted Genworth to become the first TAMP to reach $50 billion of assets, surpassing SEI and Russell.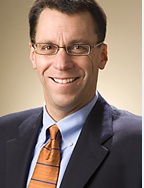 Chip Roame: "$1 billion per quarter
[of new assets] is stunning for
a firm his size, so he's
doing something right,"
The merger brought Genworth's 2,000 advisor clients together with AssetMark's 2,000 advisor clients and the combined 4,000 advisors had $12 billion of assets under management at the time of the 2006 merger.
Back on the offensive
Advisors are now positioning Genworth products into "sailing" and "rowing" categories as they speak to clients, Cordes says. The nautically themed program was instituted last spring and it's really caught on, he says. Genworth [and formerly AssetMark] has long pursued a strategy of providing intensive practice management consulting to its top advisors, and it has also taught these marketing approaches.
"We haven't had anything resonate with advisors as powerfully as this," he says. "Clients are looking for some sort of direction. We have advisors spending full-time meeting with UBS and Merrill Lynch clients and asking: Is your advisor talking to you about" investing for bull and bear markets?"
Sailing products are more traditional stocks that are propelled forward by prevailing market winds in bull markets.
Rowing products are ones designed to perform well in bear markets and these funds include hedge funds, long-short strategies, opportunistic fixed income and absolute return strategies.
Cordes' business has also been given a lift by the recovery of the Richmond, Va.-based insurance giant that owns it.
Genworth's shares now trade at more than $10 after trading as low as 99 cents on Nov. 15 last year. Genworth's shares traded higher than $30 for much of 2006 and 2007 before faltering in 2008.
Off the table
"Genworth's success helps us because it was challenging when the share price was down below $1," he says. "Now those questions are off the table."
The company reported a loss of $116 million on Friday and Wall Street celebrated the news because analysts were expecting larger losses.
Genworth has executed an effective strategy of mitigating losses relating to its mortgage insurance unit, according to comments made by the company's CEO in press reports last week.
---
Mentioned in this article:
---
---
Share your thoughts and opinions with the author or other readers.
Steve Atkinson said:
November 10, 2009 — 3:32 PM UTC
Another marketing cliche that in the end may confuse investors. After all, not only does the advisor have to spend time properly planning for clients they now have to figure out if we are in or heading into a bull or bear market so they can raise their sail or get out their oars. God bless them becuase it may not be fun rowing if the wind is blowing and vice versa. Hopefully, this will be the first time market predictions are made correctly and consistently.
Really?! said:
November 18, 2009 — 12:41 AM UTC
What is your source for the $116 millon loss? All sources I find reflect a profit.
---
---