FinFolio's graphs are all available on-the-fly, without running reports.
Webmaster's note: When Brooke and I do a software demo, we are like two small children driving a car together, one working the pedals and the other peering over the steering wheel. He catches all of the financial terms and situations that mean much less to me, and I pick up on the the tech-side of things that he's not really into. The trouble is the communication between floor and steering wheel — this time I actually sent Brooke a reassuring instant message while we were watching the FinFolio demonstration to let him know I was following and that we didn't need to pull the car over and ask for clarification. It's a delicate balance, but after we explain the cryptic bits to each other we always end up with something worthy of our readership. Here's what I thought of FinFolio after our demo with Tom Van Horn and Matt Abar.
I remember when I first used the newer version of Microsoft Excel. The layout had dramatically changed (they had added 'ribbon strips' — more on that in a second), and after using it for a minute or two I saw the genius. For the first time, I liked the design of a Windows application more than the version for Mac (I'm a diehard Macintosh fan). As you'll see, the FinFolio team used the same design principles that won my attention in Excel. The result is an application that will feel native to any Windows user, and also met my picky standards. Matt Abar and his team clearly know what it takes to build useful software.
The ribbon strip


FinFolio's Microsoft Excel-like 'ribbon strip'
I find that when I'm moving fast on the computer, jumping from task-to-task, I let my brain stop reading and start guessing. Big, unique, icons have become prevalent these days, and for good reason; they help us focus on details instead of navigation. This 'ribbon strip' concept that FinFolio uses is based on big icons, and divides sections of functionality into tabs.
The best part is that they didn't invent this technique; if you are familiar with Microsoft Office, you'll notice that it's the exact same design. FinFolio has focused closely on putting ease-of-use ahead of branding or looking unique, and the advantage is immediately evident.
Error checking [this is a big deal]
Importing data from a custodian or an old dataset, along with a number of other actions a user takes within a portfolio management system, is bound to introduce errors. Data reconciliation is a standard practice, but FinFolio appears to take things to the next level. "These errors and alerts are the biggest thing we're working on; we have fixed the [data] reconciliation problem. This is not something you can say about everyone else" Abar told us during the demo. FinFolio is taking on well-established Advent Software and Schwab PortfolioCenter.
Every time you make an action within the system, data is run through what they call CleanData™ — an error-checking feature that is meant to catch data discrepancies as they occur. You receive visual feedback about the health of your data with a set of icons, so you know when something needs fixing. But CleanData™ doesn't just compare your numbers to your custodian's numbers, it checks everything on the appropriate criteria. During the demo, we saw that even something as small as a postal address that is formatted incorrectly will be caught immediately, to ensure data accuracy on every level.
So, what happens if you import some bad data and errors pop up throughout your whole system? The FinFolio team has offered a solution to this problem as well, by letting you remove that problem-causing data all at once. As we understand it, you can think of this as a sort of system-wide "undo" feature for actions that otherwise might have taken painstaking measures to reconcile.
Since we have only seen the demo, we can't say how well this will work in practice, but in theory it could save a lot of time by nipping any and all errors in the bud.
Browser or desktop — you choose
FinFolio is built on what's called "Windows Presentation Foundation," (WPF) which means that the exact same application can run on its own or in your web browser (only within Windows). It's important to note that they didn't build both versions separately — Windows Presentation Foundation allowed them to build a single app that will run in both environments exactly the same. This means that it will always work exactly the same, and that whenever a feature is added or a problem fixed, it will apply to both versions. This screenshot was taken live, with FinFolio running next to itself.


FinFolio runs in a web browser
or on your desktop, and works
just the same
This browser-or-desktop setup is an illustration of the kind of advantage the FinFolio development team had by starting from scratch so late in the game. They were able to leverage the power of WPF, a platform that didn't exist back in the time of AdvisorMart, in order to meet today's demand for web-capable software.
Open
API

[your firm can easily extend the functionality]
FinFolio ships with a plugin architecture that will allow firms to drop in their own functionality and fields where appropriate. I can't speak to the simplicity of this task since I didn't get to see it in action, but Abar did clarify that a firm's developer will get access to the same API (Application Programming Interface) that their own development team uses for each feature, meaning your own features won't be limited in what they can access and how much they can do. This is an area that we will have to wait a while to assess, but I'm excited to see what third-party developers come up with.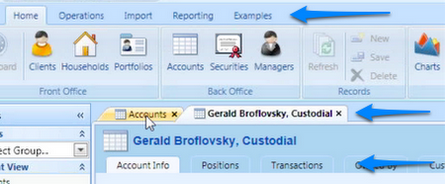 Tab hierarchy keeps things tidy
Tabs
It's not that tabs are special — Tom [our demo leader] himself pointed out that FinFolio is aiming to recreate the experience that users have become used to, and even expect. What's important to note is FinFolio's tab-related flexibility.
Unlike in our demo of NetX360 in which we discovered that tab-overflow presented the user with a dialog forcing them to close an active tab, FinFolio stays consistent with the web-browser experience, tucking extra tabs neatly into a menu on the right. Users can also display tabs side-by-side for comparison, a feature that seems like it would be useful.
Icing
Despite how many features I've touched on already, I'm still leaving out many details of our demo. A few last mentions:
In addition to grouping by client, household, portfolio, and account, you can also create smart groups that automatically include accounts that match a given criteria.
Data visualization happens on-the-fly, which means that data-visualization tasks that typically warrant creating a report can be done in FinFolio just by selecting the right data and opening the right view.
These views are contextual; if you are viewing a certain type of chart, and you select new data or a new account, the chart now reflects that new data. This makes for smooth transitions and I forecast that navigating around FinFolio will be quite efficient.
An interesting story
Abar's small team has been working hard, and developed FinFolio completely from scratch, so they had a great opportunity to be innovative and sweat the details, without the constraints of legacy systems. Although we've only seen a demo of the software, we are very impressed, and will be paying attention to FinFolio in the coming months. We think Matt Abar and his team may rock the boat with this new development, but time and real-world use of the software will tell.
FinFolio is created by many of the same people as AdvisorMart was back before Advent bought them out. Because of its unusual history, FinFolio is making a unique entrance into the market; read Brooke's account of that story here at RIABiz.
---
---
---
Nevin
Hi Paul,
You can find contact details for most of the companies we write about in our directory. Here's the link for <a href="http://www.riabiz.com/d/113134" target="_new">FinFolio</a>, which includes a phone number.
Paul Eldridge
I am one of the folks that still uses Techfi. Our license expires in August. How do I contact you via phone to learn more? I am very interested in your new product.
Thank you very much…
Paul Eldridge
Eldridge Investment Management
http://thescripter.com/_keywordindex.htm
Sometimes I frequently believe precisely what a amazing community we continue being in, how great our people is,how much of a superb energy our tiny becoming.We should to compliment ourselves for existing this kind of present day quick progression excellent instances.We should to delight we can appreciate this kind of superb present working day engineering achievements.We ought to put our whole energy energy in towards the work business which we engageing in. We should to compliment to reside in.