Patrick Williams: "People say print media is dead but I have $51 million that says they are wrong."
Relaunched last spring after falling on hard times, Worth magazine has emerged as a pay-for-play opportunity for financial advisors who want to buy exposure to high net worth investors.
The New York-based magazine was bought last year by Boca Raton, Fla.-based Sandow Media, which is known for its lifestyle publications. Worth is charging about $2,495 per month or about $30,000 per year [the minimum commitment] to financial advisors to receive two-page profiles in each of its six issues in addition to ancillary services.
Patrick Williams, publisher of Worth, says the advertorials are working for advisors because they are seeing referred assets flowing to them as a result of the profiles.
"Fifty-one million of assets under management just for the first issue," he says in a thick British accent. "People say print media is dead but I have $51 million that says they are wrong."
There were 24 broadly-defined advisory firms [including some lawyers and accountants who specialize in wealth management] that paid for space in the May/June issue of Worth and more than 40 in the October/November issue. More than 50 advisors are slated to participate in the December/January issue.
Worth plans to expand its profile capacity over time by publishing separate issues in different geographical markets throughout the United States.
Journalistic sticklers
Advertorials, though frowned on by journalistic sticklers who say they confuse readers, have become more common the last decade. However, advertorials run in the most prominent newspapers and magazines typically are marked "advertorial" or "paid advertisement" in a prominent position on each page of the feature.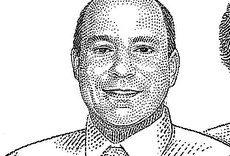 Lawrence Busch: "The advertising is particularly
valuable because the profiles can be
used in the same way as
articles written by journalists in traditional
publications."
Worth appears to have departed from this practice. The profiles themselves are not marked as "advertising" in the publication but there is a sentence in the preamble of the profile section indicating that they are paid for. The sentence reads: "The participating advisors help to underwrite the production cost of the magazine." This suggests that If an advisory firm uses a reprint of the advertorial, it would not have to indicate that it was in fact paid for.
The profiles are grouped in the "Grow" [as in your money] section of Worth under the heading "Leading Wealth and Legal Advisors." All the profiles have a polished, uniform and understated look. The articles feature illustrations of the advisors in the Wall Street Journal dot-matrix style.
Worth screens the advisors itself [mostly for assets under management] initially and then has Paladin Registry do additional screens that involve checking an RIA's ADV.
The appeal of the marketing program is precisely the fact it combines the control and predictability of advertising with the prestige of a journalistic article, according to Larry Busch, founder and president of Sage Capital Management LLC of New York, whose firm pays for the service.
Demonstrating credibility
"The advertising is particularly valuable because the profiles can be used in the same way as articles written by journalists in traditional publications," he says. "We often use the Worth magazine reprints in our marketing materials as a way of demonstrating credibility to both existing and prospective clients."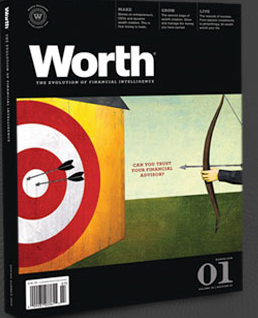 Worth magazine is targeting RIAs as
a prime revenue source
For example, Sage's profile includes perspective on how navigated the tricky investing environment of 2008. "By the fall of 2008, we increased our substitution of equity risk with corporate and municipal bond risk and were able to shield our portfolios from most of the damage that has occurred," the firm's profile states.
Another early-adopting financial advisor says the jury is still out on whether or not the Worth program is a good way to spend $30,000.
"We've gotten some response but it's not as if the phones are ringing off the hook," says Roger Hewins, president of Hewins Financial Advisors of San Mateo, Calif., which manages $2.6 billion.
He adds: "I think something like this takes a little while. Center of influence kinds of people get the magazine, and they said that they were impressed by our presence there."
People are impressed with advisors' presence in Worth magazine because it transcends conventional advertising, according to Williams.
One-stop shop
"This is more of a PR and marketing service than advertising," he says. "This is a one-stop shop to use the Worth brand."
Two principals of public relations firms that serve financial advisors said that they believe that they could accomplish much more with a $30,000 budget using more conventional tactics. Both these PR executives asked to remain anonymous.
But Kristen Luke, principal of Wealth Management Marketing in San Diego, says that she likes the Worth program – under the right circumstamces.
"If that was an advisor's total marketing budget, it wouldn't make sense to spend it on Worth's program," she says. "However, I know a number of advisors who spend $2,500 per month on ads in local newspapers or magazines. For the same amount of money, an advisor could participate in the Worth program and receive print and digital reprints, complimentary magazine subscriptions, event displays, and complimentary hard cover books."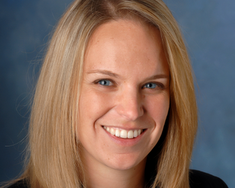 Kristen Luke: "If that was an
advisor's total marketing budget, it wouldn't
make sense to spend it on
Worth's program."
In addition to the six profiles, Worth indeed provides free reprints, magazine subscriptions worth $11,000 [at the retail price] for an advisor's clients and a hard cover book with the advisor profiles. It also provides event displays that a wealth manager could use to promote itself at a conference.
Worth magazine is going to great lengths to make sure its magazines reach big numbers of highly affluent individuals. It sends out 110,000 issues in padded yellow Jiffy packets to people identified by Personicx as having $1 million of equity in their home and $2 million of net worth.
The magazine recipients also need to have been subscribers to the Wall Street Journal, Barron's or another financial publication in the past.
This pinpoint one-stop marketing impresses Busch of Sage Management.
Luke agrees.
"It looks like editorial content and not a traditional ad which makes it a more appealing form of advertising," she says. "From a marketing perspective, you get a lot more for your money than you would from traditional advertising."
Midas touch
Worth reached beyond traditional advertising on the heels of its sale a year ago to Adam Sandow of Boca Raton, Fla., who seems to have the Midas touch for developing profitable publications. He originally succeeded with a wedding website called Knot.com that was described as a "precursor to social networking" by a marketing executive.
Since then he has found success with such magazines as Luxe, Western Interiors and New Beauty. The latter publication sold more copies than Vogue magazine in September, according to Karen Fraser, who markets the advisor profiles for Worth from Sausalito, Calif. The common denominator: all the Sandow publications target high net worth individuals.
Besides the yellow Jiffy packs, Worth gets exclusive placement at newsstands in 60 private jetports. Sandow builds the physical newsstands. Worth is not generally available on conventional newsstands and copies sell for $18.95 per issue.
Worth magazine's lineage is promotional. It was originally launched by Fidelity Investments as an in-house newsletter before being built up later in the 1990s by Randy Jones to compete with publications like Smart Money and Kiplinger's.
During the six years before Sandow acquired it, the owners of the Robb Report had the controlling interest. The publication suffered a contraction in advertising last year after the markets collapsed last fall.
Kaleidoscope
Besides entering into new regional markets, Worth plans to expand by doing more profile other professionals who advise the superrich, including lawyers, mortgage brokers and insurance professionals.
---
---
Joseph A
November 16, 2009 — 6:08 PM
For some, I presume the inclination to sign up for this WORTH advertorial is a shortcut to getting the full blown credibility that can be achieved with an ongoing PR campaign. The participants want to position this as third party recognition, but the savvy consumer will see it for what it is -a regionalized advertisement that is cleverly packaged. I'd be curious to know how many of these advisors would re-up after doing this for a year. If this flies, there may be some "me too" pubs on the horizon.
Maria Marsala
October 6, 2011 — 9:38 AM
With the affluent using social networking venues, I would think that the ads would also include a LinkedIn profile URL, too.
Kevin Dinino
January 3, 2012 — 10:07 PM
Brooke,
This is the classic "placing your eggs all in one basket" approach. I met with a Worth ad rep about 2 years ago to learn more about this for KCD PR's clients to see if there could be editorial opportunities and while it could appeal to some, an advisor has so many more options with their marketing an PR budgets. Prospects aren't stupid, especially Worth readers — it's a cleverly disguised ad. To Joe's earlier comment, actually having a PR strategy and connecting across multiple mediums (print, web, social media, broadcast) is the best way to influence a consumer and build credibility. It's amazing how much money RIA's throw at one tactic all in the name of looking good.
Having worked in this industry over 12 years, I'd take a long hard look at Worth's subscriber base and wonder just how many truly affluent investors are paying subscribers. I get my subscription free of charge.
Kevin
TJ Gilsenan
November 16, 2009 — 9:39 PM
This program certainly has potential. With just a few additions, I think it could significantly assist the business development efforts of the firms involved. If you are thinking of participating, I suggest the following:
1. There should be a link to your website from the home page of www.worth.com. Why is this important? One of the ways search engines judge the value of your website (and thus if and where your firm appears when someone searches Google, for example) is by the number and quality of links to your site from other sites. In essence, these links count as votes from the citizens of the web. The more "votes" – links from other sites – your site has, the more valuable a search engine judges it to be. The popularity of the site the link comes from is also important. Put another way, a link from your brother-in-law's blog is no where near as valuable as a link from Worth.com. It should be from the home page to maximize the benefit to your site. 2. The link should point visitors to a page of your site (or a new page specifically designed for this purpose) that offers them something of value – a free white paper, a guide to estate planning, a free portfolio review – in exchange for their contact information. The goal is to convert the traffic created by the Worth advertorial into sales opportunities that can be nurtured by your firm. I would also include an opportunity for the visitor to subscribe to your monthly e-newsletter in exchange for their email. This gives people who may not want to provide their full information a second option. It also allows your to capture their email and market to them over time. 3. Finally, consider tracking how many people come to your site from worth.com. Of that number, how many of them subscribe to your e-newsletter and/or download your white paper? Divide the cost of the ad by the number of opt-in leads you generate to determine your cost per lead. How does this compare to your cost per lead from other sources?