News, Vision & Voice for the Advisory Community
Barclays, State Street see less urgency for investing actively using passive vehicle
October 9, 2009 — 5:47 AM UTC by Brooke Southall
Invesco PowerShares hasn't launched any new exchange traded funds in more than a year but Bruce Bond has used the time to chart a new strategy and it may include a much bigger focus on actively-managed ETFs.
"It's been a good time to refocus," says the president, CEO and founder of the Wheaton, Ill-based ETF provider.
In the incremental world of financial product development, what Bond is envisioning – eradicating the stereotype of ETFs as a vehicle for passive investing — is more like a revolution.
"A day is coming when it will become ultimately about the structure," he adds. "Someday, [mutual funds and ETFs] could compete with one another" because, all things equal, people will choose the tax-efficiency, liquidity, ease of use and other ETF attributes over the less dynamic structure of the traditional mutual fund.
Bond intends to fast forward the destiny of ETFs on the financial landscape.
"A large part [of the investment industry] will continue to be active [in its management style] so if that's true, we say: what is the best vehicle?" Bond asks. "We believe the ETF structure does that." .
He acknowledges that the handful of active funds at PowerShares have only about $26 million of the company's nearly $40 billion of its assets but this slow start doesn't faze him. For instance, he recalls how long it took the original SPDR to take hold with investors.
Some of the executives Bond competes against in his industry are less optimistic that ETFs can infringe on mutual fund turf.
"To the extent that these [good qualities of ETFs] translate to active management, I agree with Bruce but [the advantages enjoyed by] ETFs are based on low [portfolio] turnover," says Jim Ross, senior managing director of State Street Global Advisors. "Will the tax efficiencies always be there?" when active management includes intense trading activity.
Not gaining much
Noel Archard, managing director of US iShares, product research and development, agrees that the active approach is not ready for prime time.
"You're not gaining as much" through ETFs with active management as you do with a passive approach, he says.
Vanguard Group, which competes in the ETF market with VIPERS, declined to comment for this article through its spokeswoman, Linda Wolohan.
A major concern expressed by both Archard and Ross is that the transparency of ETFs will result in "front-running" by other investors, which negates some of the effectiveness of the strategy.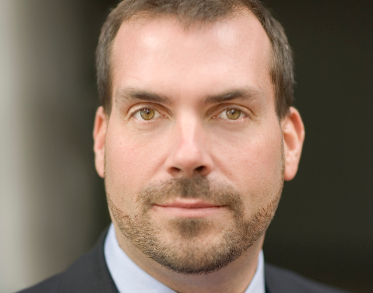 Noel Archard: "I have some thoughts
that there are some ways around"
front-running concerns
This concern may be overblown, according to Tom Lydon, president of Global Trends Investments, an RIA in Newport Beach, Calif. and publisher of ETFTrends.com
"Is the [front-running] objection valid?" he asks. "I don't think there's a big enough objection there" because it may be too late for a copy cat to react once trades are made.
Front-running is of particular concern for managers trading in thinly-traded shares like small caps or the shares of companies in emerging markets, Ross says.
Concerns about front-running may diminish over time as the structure of ETFs evolves, Archard allows.
"I have some thoughts that there are some ways around" having investors piggy-backing onto the ideas of active ETF managers, he says. Though he didn't specify what those "ways around" might be, Archard says that rolling the ideas out at a patient pace is Barclays' modus operandi.
"Getting it right is far more important than getting there first," he adds.
Niche strategy
For now, Barclay's Global Investors, will only use active management in ETFs as a niche strategy in the immediate future. For instance, Barclays has a popular ETF comprised of three-month fixed income securities but it keeps getting requests for a one-month product, Archard says.
Trying to create an index of such short-term securities would be difficult because there are so many of them. Barclays may create a fund that acts like an index fund but is technically actively-managed, he adds.
Powershares is taking the same approach in creating an ETF of high-yield [read: junk] bonds, according to Bond. "You need to look at the underlying credit so having a passive approach really wouldn't be possible," he says. "It's a way to bring more assets into the market."
One way that PowerShares hope to get a leg up in creating actively-managed ETFs is by leveraging the capabilities of the portfolio managers at Invesco, the mutual fund company that acquired his firm in 2006 [and incidentally added its name to the brand of Bond's company earlier this year].
"They have all the [management] expertise so that's the first place we would look" he says.
Archard takes a similar view of the imminent acquisition of iShares by BlackRock.
"Part of the strength iShares has is that we get to kick ideas around with the best managers in the world so as the company gets bigger, that's always beneficial," he says. "I'm excited."
Managerial wizards aside, it also comes down to what investors want, Ross says.
"We just had a client conference with our best clients and I asked: are you looking to active ETFs and I didn't get a rousing response," he adds.
---
Mentioned in this article:
---
---
Share your thoughts and opinions with the author or other readers.
---