Bernie Madoff: Elie Wiesel trusted this solemn face and so did the heads of 150 foundations
Editor's note: It's hard to think clearly about Bernie Madoff and the financial damage he did to so many people and good causes. This article by Sharon Schneider cuts through the noise and offers a roadmap for any advisors still worried about having their clients blindsided by an unscrupulous swindler. The Investment Management Consultants Association has generously allowed RIABiz to be the first publication to reprint it on behalf of its readers.
In June 2009, Bernard Madoff was sentenced to 150 years in prison for perpetrating the largest Ponzi scheme in memory. That's about one year for each of the almost150 private foundations that had placed significant chunks of their endowments with his firm.
Victims include the Elie Wiesel Foundation for Humanity, Steven Spielberg's Wunderkinder Foundation, the New York Mets Foundation, the foundation of Mets owner Jeffrey Wilpon, and the almost $1-billion Picower Foundation, which was forced to close operations in December 2008.1
How did this happen to such large and well-respected foundations? What is the liability of the foundation managers and investment advisors who turned their money over to Bernie Madoff? And how do you keep your own or your clients' foundation endowments safe from similar schemes?
Why Are Private Foundation Assets different from Personal Assets?
As a board member or trustee of a private foundation, you or your clients have agreed to exercise stewardship over the foundation's assets, placing the interests of the foundation ahead of any personal interests. This is a very high standard of responsibility because foundation assets are considered to be held in the public trust; donors to foundations receive potentially substantial tax deductions as an acknowledgment that their donations will be used in the public interest.
If you lose your personal wealth, no one loses but you. But if you lose charitable funds, all of society loses. Therefore, if endowment funds are not adequately protected, the government can penalize foundation managers (in some cases imposing personal financial penalties) for being careless with funds entrusted to their stewardship.
What Happened?
The December 13, 2008, article in the Wall Street Journal by Jason Zweig headlined "How Bernie Madoff Made Smart Folks Look Dumb" explains how investors were tempted by the exclusive club surrounding Bernard L. Madoff Investment Securities LLC. Zweig writes that the lure of high returns and low volatility seems to have trumped common sense and due diligence among otherwise sophisticated investors. Indeed, Boston money manager (and early Madoff doubter) Harry Markopolos pointed out almost 30 serious red flags with the fund in his 2005 letter to the Securities and Exchange Commission, "The World's Largest Hedge Fund is a Fraud."
At that time Markopolos claimed that "Madoff is suspected of being a fraud by some of the world's largest and most sophisticated financial services firms." With Madoff's stellar reputation on Wall Street, the SEC never seriously pursued the allegations.
But if some of the world's largest and most sophisticated investors were immediately scared off by some of the same red flags that Markopolos saw, what does that mean for those who did invest? For some, it may mean a visit from the Internal Revenue Ser-vice (IRS). Section 4944 of federal tax law prohibits the board of a private foundation from investing assets in a way that could jeopardize the foundation's ability to carry out its charitable purpose. Foundation managers found guilty of such "jeopardizing investments" can be held personally liable and hit with a tax of 10 percent of the amount involved.
"Ordinary business judgement"
Although federal law requires foundation managers to exercise "ordinary business judgment," a stricter standard generally is found in state laws that require trustees or directors to exercise fiduciary duties of care, obedience, and loyalty. New York Attorney General Andrew Cuomo sued one charity's investment advisor for failing to conduct appropriate due diligence before investing charitable funds with Madoff's firm. Connecticut Attorney General Richard Blumenthal questioned foundations under his jurisdiction, and other attorneys general may follow.
As of June, several civil law suits also have been filed against foundation managers who invested with Madoff. Publisher and real estate mogul Mortimer B. Zuckerman sued his foundation's investment advisor Ezra J. Merkin, claiming that "Mr. Merkin had hidden Mr. Madoff's role and failed to exercise reasonable care in selecting money managers and overseeing their work." The trustee liquidating Madoff's businesses filed suit against the Picowers—once counted among the biggest victims of the Madoff fraud—saying that the couple did know or should have known that they were illegally benefiting from the Ponzi scheme.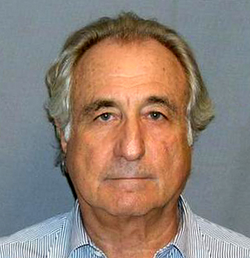 Madoff went to prison but the
damage was done
Over the coming months, observers in the nonprofit community will watch closely to see whether the justice system feels the foundations' managers and advisors did appropriate due diligence before placing money with a well-known former head of NASDAQ or whether they conclude that a more demanding standard of due diligence was called for.
Balancing the Equation
Any organization must face both sides of the financial equation: money in and money out. For private foundations, the "money in" comes from donations or investment income—interest, dividends, and realized capital gains. Money goes out in the form of grants, taxes, and administrative or investment management expenses. Many foundation boards pay close attention to the money going out, carefully watching expenses and spending significant meeting time on grant decisions. Fewer boards spend as much time reviewing foundation investments.
For the majority of foundations with relatively small endowments, investments are limited to publicly traded securities and other highly regulated financial products. But if a foundation's investment appetite extends beyond equities into private partnerships, hedge funds, or other alternative assets, you as an advisor need to be sure your clients understand these assets, how they generate returns, and how much risk they present to the foundation.
How to Reduce Your Exposure
If you're on the board of a private foundation or serve as investment advisor to one, you may want to use lessons learned from the Bernie Madoff scandal as an opportunity to tighten up your investment practices. Here are five concrete steps you can take that will help protect the foundation and its managers:
1. Review your current portfolio and look for red flags. The Madoff red flags included overly consistent, positive re-turns for years and years, even during down markets; a "proprietary" strategy for trading that Madoff would not disclose to anyone outside his immediate family; the fact that Madoff's firm custodied its own assets rather than using an independent custodian; and the lack of an independent auditor who verified the books (Madoff's brother-in-law audited the fund and had no other clients—a huge red flag to investors doing due diligence). If any of your current investments show any of these characteristics or anything else that makes you uncomfortable, start asking questions and dig deeper; unwillingness to answer your questions is another red flag. Remember, a stellar reputation—which many people assume means others have done due diligence and everything is rosy—does not eliminate the need for your foundation to conduct and document its own due diligence.
2. Create and follow foundation policies. A foundation should have a written investment policy that outlines its invest-ment objectives and philosophy, provides guidance on asset allocation, and lists any types of specifically prohibited investments. A foundation also should have a conflict of interest policy that defines potential conflicts of interest (e.g., paying a board member for investment management services) and outlines how the foundation and the individual will handle the potential conflict (e.g., disclosing all relationships). In addition, a foundation should have a strict due diligence process that requires the objective evaluation of every potential investment, whether recommended by a board member, investment advisor, or Warren Buffett himself. Creating and following these policies will help the foundation to identify and correct any issues, and documenting the policies and how you follow them will help protect foundation managers from accusations of wrongdoing in the event the IRS, the attorney general, or some disgruntled cousin ever comes knocking on the foundation's door. You also may consider directors and officers insurance, which covers costs incurred by a foundation manager in connection with defending against charges of improper conduct.
3. Educate the entire board. One simple rule for foundation managers is "don't invest in what you don't understand." Many charities and foundations got in trouble because they relegated investment decisions to only one member of the board and others did not really know what was going on. All members of the foundation board should be familiar with the obligations of fiduciary duty, the terms of the investment policy, and the concept of the Prudent Investor Rule and jeopardizing investments. In selecting individual alternative investments, the foundation should not rely on a positive review from one board member or foun-dation advisor without the informed consent of the entire board. Consider having a neutral source review potential investments to see if they hold water and give all board members a chance to ask questions before moving ahead with a new investment.
4. Diversify. It's a cliché in the industry that you should be diversified among asset classes, but you also may consider diversifying the foundation board. A study just released by the National Committee for Responsive Philanthropy (NCRP) showed that the foundations that lost money in the Madoff scandal were governed by boards that were small—median three members—and homogeneous, with many board members sharing the same last name.7 NCRP concludes that board diversity helps protect the foundation from insular decision-making. The same family dynamics that cause successive generations to defer to mom and dad on many granting decisions likely apply to investment decisions, so there's some argument that having a peer in a position of equal voting power on investments would be a useful check on well-intentioned but potentially hurtful deference among a cross-generational family foundation. An investment advisory committee could serve the same purpose while keeping true foundation governance in the family, so each foundation should carefully weigh different governance options with its advisors.
5. Seek a second opinion to protect all parties. A prudent foundation board may consider whether to hire an inde-pendent firm to review the foundation's investment policy, make sure the policy is being followed, conduct a performance review of current investment managers, and provide some educational sessions so that all parties are well-informed and comfortable with the investment management. Some foundations undertake this type of evaluation every few years as a matter of course. With respect to alternative investments, the foundation always should consult a qualified tax attorney before investing in any nonpublicly traded security to avoid negative tax implications for the foundation.
In 99 percent of cases, the foundation will be comfortable with what you find and everything will be fine. But it's the process that matters—and the foundation's documentation of that process. If you stay on top of your fiduciary duties, establish and follow a prudent due diligence process, ask the right questions, and still get scammed, the containment of your losses should allow you to avoid the fate of the Picower Foundation trustees and the scores of nonprofits that were crippled by its downfall.
Sharon Schneider is philanthropic director with Foundation Source in Chicago. She earned a BA summa cum laude from the University of Toledo in English and linguistics and an MA in linguistics from the University of Pennsylvania. Contact her at sschneider@foundationsource.com.
Endnotes:
1 Geraldine Fabrikant, Foundation That Relied on Madoff Fund Closes, New York Times (December 20, 2008): B3, available at https://www.nytimes.com/2008/12/20/business/20foundation.html.
2 Jason Zweig, How Bernie Madoff Made Smart Folks Look Dumb, Wall Street Journal (December 13, 2008): B1, available for subscribers at https://online.wsj.com/article/SB122912266389002855.html.
3 Harry Markopolos, The World's Largest Hedge Fund is a Fraud (November 7, 2005), memo to the Securities Exchange Commission, available for subscribers at https://online.wsj.com/documents/Madoff_SECdocs_20081217.pdf.
4 See Ben Gose, Senate Aide says IRS could question board members over Madoff Investments, The Chronicle of Philanthropy (online January 14, 2009), available at https://philanthropy.com/news/government/6793/senate-aide-says-irs-could-question-board-members-over-madoff-investments.
5 Diana B. Henriques, Cuomo Sues over Madoff Investments, New York Times (April 6, 2009): B1, available at https://www.nytimes.com/2009/04/07/business/07madoff.html.
6 Anthony M. Destefano, Suit Eyes $5B in False Profits Earned Via Madoff Scam, Newsday.com (May 12, 2009), available at https://www.newsday.com/news/suit-eyes-5b-in-false-profits-earned-via-madoff-scam-1.1232839.
7 Learning from Madoff: Lessons for Foundation Boards, National Committee for Responsive Philanthropy (June 2009.), available at https://www.ncrp.org/publications?p=product=49&parent=1.
Private Foundations and Fiduciary Duty: Five Steps to Avoid the Next Bernie Madoff," by Sharon Schneider, was originally published in Investment Management Consultants Association's September/October 2009 issue of Investments & Wealth Monitor. To access more articles, visit IMCA's Web site:www.IMCA.org.
---
---