News, Vision & Voice for the Advisory Community
Two-day program draws well for non-prime time of Friday-Saturday in LA suburb
October 10, 2009 — 5:38 PM UTC by Brooke Southall
The Financial Planning Association expects attendance at its annual conference to decline this year but its non-member attendance may be an encouraging sign.
The FPA kicked off its Major Firms Symposium yesterday and the executives attending were from companies including: Raymond James, Ameriprise, LPL Financial, CitiGroup, Bank of America, Morgan Stanley Smith Barney and Waddell & Reed.
In all there are about 100 of these executives in Anaheim right now who represent 50 companies and about 100,000 financial advisers either as employees or affiliates of their companies. For the complete list CLICK HERE
"All the big brokerages are here," says Timothy Welsh, principal of Nexus Strategy in Larkspur, Calif. who helped found the symposium at the FPA's conference in San Diego five years ago. It had only 12 attendees that year. He remains a member of the FPA's task force and helps speahead the symposium.
The type of executive coming to the FPA pre-conference event is not a national director but many of them oversee 5,000 or more financial advisors, Welsh adds.
The FPA is generally more likely to be seen as the ally of the fee-only financial advisor. The association spearheaded a legal battle with the Securities and Exchange Commission to shoot down the Merrill Lynch rule. The exemption the securities laws allowed brokers to hold themselves out as financial planners. Many of the firms in its Major Firms Symposium would have favored the SEC in that battle.
Though old battle lines may have kept the FPA and the brokerage realm in their own corners in the past, this symposium is starting to bridge the gap.
"It's the unknown corner of the FPA," Welsh says. "If you can't come to the FPA, you can come to the symposium."
Welsh credits the strong attendance at the FPA's symposium to its "content" and its ability to create a place for community among like-minded competitors.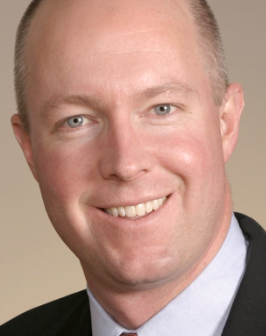 Timothy Welsh: "It's the unknown corner
of the FPA."
The symposium's keynote speaker yesterday was W. Hardy Callcott, former chief counsel for Charles Schwab & Co. of San Francisco and a partner with Bingham McCutchen who gave an overview [see Callcott's full Power Point presentation at end of this article] of the legal and regulatory landscape including what impact proposed standards could have on large firms. It also covered examined changes in state level regulations compared to national changes.
The FPA also created an AT&T-sponsored forum made up of top technology providers like Allbridge, Sungard and Naviplan. Attendees were looking for answers about how to use these technologies across multiple offices, Welsh says. For the symposium's full agenda, CLICK HERE
Today from 1:30 to 3 p.m., the symposium will get back to basics with a session called: "What is financial planning?" [Editor: I couldn't make that up.]
The FPA is fostering relations with these brokers and other firms for good reason, he adds. "Guess what: the FPA wants members," Welsh says. "This is a nice outreach to them. We'd love to have them as members."
Editor's note: The FPA's Major Firm Symposium appears to be part of a gathering trend of cats sleeping with dogs. At the Investment Management Consultants Association meeting in San Diego in May, it held two sessions about what it's like to be an RIA and both of them were well-attended. At Schwab's IMPACT 2009 conference in San Diego last month, it hosted 45 wirehouse brokers considering independence. Now the FPA is hosting 100 executives primarily from legacy brokers. Is this a case of reality getting ahead of legislation?
---
Mentioned in this article:
---
---
Share your thoughts and opinions with the author or other readers.
Stephen Winks said:
October 11, 2009 — 12:22 AM UTC
Brillant Reporting!
The 34 slide Hardy Hallcott presentation intended for major wirehouses tells the RIA community exactly what the brokerage lobby is trying to achieve. There are so many points which are counter to the best interests of the consumer and the RIA, the RIA lobby better have a strong unified voice if we expect to protect fiduciary standing as informed by ERISA and UPIA.
In a quick read these are the points the RIA community must counter, the facts are on our side—but we need to the make the arguement and not roll over:
1. The Obama/Geitner Proposal advances a higher standard which can not be modified by disclosure or client consent which would only apply when advice is provided. This supports the RIA's position, yet Mr. Hallcott adds, if advice is provided, "fiduciary duty is not imposed." This is a very tortured legal interpretation, as from the perspective of the RIA, advice is synonous with fiduciary standing. This sort of legal calculus which maintains "up" is "down" requires more than just the insistence of the advisor that that is not the case. We must have counsel familiar with and which can refute such legal tactics. Otherwise we are toast.
2. Hallcott confirms Wall Street's lobbying objectives; a. Disclosure and client consent in effect waive fiduciary duty. b. ERISA does not apply even when brokers are dealing with Benefit Plans. c. The fiduciary standard is principles based and subject to interpretation, gutting fiduciary standing as we know it. d. Supports an SRO for advice, maintaining the SEC can not supervise it thus setting up FINRA as the SRO. e. Obama/Geitner want comprehensive reform, Wall Street wants a series of disjointed issues to be addressed, with the less controversial issues being addressed first in a hope to run out the clock, rather than treating reform suggested by Obama/Geitner as a whole. f. The House Financial Services Committee will have a reform bill out of committee by the end of 2009. g. The Senate BankingCommittee at the earliest will have a bill out of committee until sometime in 2010. Thus, there is a very real sense of urgency for the RIA community to to be ready for a fight. This is it. h. It is unusual that controversial legslation is passed in an election year, but another scandle will change that. This means we might have to be ready for the long haul.
If you are as passionate about fiduciary standing as I am, we need to find and advocate that is bigger than we are as interested individuals and organize behind him. Duane Thompson and/or Don Trone seem the most articulate. Hopefully they will take on this challenge that will shape the course of advisory services against very formidable advocates on the brokerage side.
---
---