News, Vision & Voice for the Advisory Community
The iShares chief encouraged the entrepreneurs, many of whom are ex-RIAs, to see themselves as primary purveyors of BlackRock ETFs
June 3, 2014 — 2:08 AM UTC by Guest Columnist Dave Waluk
Brooke's Note: If I'm reading this article right, BlackRock is telling managers of ETFs: Go ahead and collect your big fees with our support and we'll be content with the relative pennies represented by ETF fees. That seems like a very mature decision on the part of the big New York firm and a very fortuitous situation for ETF managers who have come firing out of the gates. Consider the glorious success of Windhaven, which has nearly $18.7 billion of assets under management, according to its most recent ADV. The Boston-based firm managed just $3.9 billion when it was acquired by Charles Schwab & Co. in 2010. The symbiosis between ETF makers and ETF managers reminds me of the one that exists between RIAs and RIA custodians — a very solid marriage of convenience with endless possibilities.
A symbiosis is shaping up in the asset management world that could usurp much of the fund business that preceded it.
The process taking place between exchange traded fund providers and ETF investment strategists was on full display in New York last week at the iShares Connect Conference.
Around 250 senior financial services professionals attended the third annual event held from May 5 to May 7. The invitation-only event brings together 250 C-suite level personnel — chief executives and chief investment officers — from the major "ETF strategists" that provide third party, ETF-based modeled portfolios.
Also in attendance were representatives from asset-management platforms and turnkey-asset management providers (i.e. Envestnet Inc., Placemark Investments), database and analytics providers (Morningstar Inc., eVestment), research firms (S&P/Capital IQ, kasina), index providers (MSCI, S&P Dow Jones), and media (ETF Trends, ETF.Com, Wall Street Journal, Reuters), along with senior personnel from BlackRock's iShares, including its chief executive, Larry Fink. See: BlackRock CEO rates U.S. economy closer to brink than PIMCO CEO.
Non-compete vow
The common goal of the participants was to further cross-pollinate these different channels. But first there was vital issue that needed to be addressed: the potential for channel conflict.
"What we will not do is compete with you," said Mark Wiedman, global head of iShares.
Wiedman explained that BlackRock is positioning third-party asset managers as its "preferred strategic channel partner." He added: "We will not compete directly by selling tactical asset allocation models directly to advisors, nor will we provide asset allocation advice directly to end investors."
That's a strategy being pursued by firms like Wealthfront. See: How Fidelity is locking arms with BlackRock and appealing to RIAs to fend off a Schwab ETF threat.
Wiedman allowed that BlackRock will continue to compete in the market using products and funds with multiple assets, however BlackRock executives deem ETF investment strategists a critical product distribution channel. This assurance from BlackRock, the largest asset manager globally with over $4.4 trillion in assets, was a highlight of the conference for many of the entrepreneurs in attendance.
Best of breed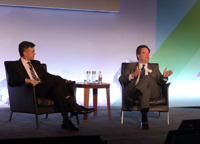 Brian O'Donnell – left – with
Wiedman: The approach to the business
reflects an entrepreneurial DNA and focus.

BlackRock may be making the right bet by focusing on ETF strategists as a critical channel partner. The only thing that appears to be growing faster than ETFs as an investment vehicle is the growth of ETF strategists. iShares has been throwing resources at this group for several years in the belief that what is good for these boutique asset managers will be good for the ETF industry and thus BlackRock.
The results are promising: iShares has a larger market share in ETF-based managed portfolios, versus its 38% market share of exchange traded products, according to the company. See: How BlackRock plans to grow iShares using advisors as one key.
Positive reinforcement was heaped upon the ETF specialists by other speakers. Brian O'Donnell, co-head of iShares Institutional's asset manager team, remarked that ETF investment strategists are scrappy entrepreneurs weaned to compete.
"Their approach to the business reflects an entrepreneurial DNA and focus, allowing them to effectively compete against larger asset managers or in-house models." See: RIAs surpass wirehouses in ETF asset distribution and it'll mean change.
Boutique aura
Indeed, ETF investment strategists operate under an RIA structure, serving as sub-advisors to other RIAs and advisor networks. In many cases their firms originated as RIAs, directly managing client accounts, and then morphed into asset managers as a way to leverage their expertise more broadly through separately managed accounts and other vehicles. This concept of "shared DNA" partly explains why RIAs and independent broker-dealers were early adopters of ETF-based strategies and partnered with strategists.
Todd Rosenbluth, senior director at New York-based S&P Capital IQ and director of ETF and mutual fund research, viewed a sea change occurring in the industry, with a noticeable shift from "security selection to asset allocation."
Matt Hougan, whose website Index Universe was rebranded ETF.com earlier this year, commented "ETF strategists have the aura of boutique excellence, complemented by ETF accessibility. The successful firms are investing in sales and marketing to articulate their strategy, produce consistent returns, convey their message to clients in a way that they understand, and are able to keep clients invested during periods of underperformance." See: Windhaven misses its 12-month benchmarks again but still hits asset-gathering mark.
Mainstream, big time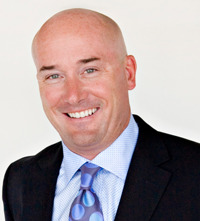 Tom Lydon: ETFs, with all of
their inherent benefits, came out of
the pure beta, legacy index world.
No surprises and little excitement.
The iShares Connect program was launched in 2008, designed to drive growth and industry recognition of ETF investment strategists as a separate and distinct breed of asset manager. Katharine Earhart, head of iShares Connect, opened the conference with a dramatic visual timeline that highlighted the tremendous growth of the segment over the past seven years, in both size and visibility.
"In 2008 when we launched the first edition of The Guide to ETF Investment Strategists, we featured 26 asset managers with around $6 billion in AUM. Our program now covers 112 firms, with a combined $95 billion in AUM, and we forecast $120 billion in ETF assets within two years. The overall ETF Strategist segment is showing 30% compounding growth in AUM, in comparison to the broader asset management industry, which is tracking at around 2% per annum. As a benchmark, leading firms now have over $10 billion in AUM, which is more than the combined assets of the 26 firms in our first edition of the Guide in 2008."
The theme of iShares Connect 2014, "Define/Evolve/Achieve," reflected iShares perspective that ETF strategists, once considered fringe players, have now achieved mainstream status within the broader asset management community. See: Coming from behind, Vanguard is gobbling up ETF market share.
Distribution realities
Gaining access to various wealth management platforms, TAMPS, and independent broker dealer networks, has long been the critical challenge to ETF investment strategists. These challenges continue to exist for emerging managers, however many of the larger, well-established firms in the space now enjoy broad distribution networks and are accessible to many advisors. See: With help from Envestnet and a former Genworth technology whiz, Loring Ward is revamping its TAMP platform.
Tim Clift, chief investment strategist at Chicago-based Envestnet, commented that his platform incorporated ETF Investment Strategist into the 90-plus managers and over 1,000 SMA strategies on the Envestnet Fund Strategist Platform. He cautioned ETF Portfolio managers: "Help us think through where you fit, lead with what you are good at, consider how you fit into the end models." See: Startup firm bets its ETF research technology can cut out the middle man for advisors
Outsourcing is key
Mike Abelson, senior vice president of product and investment management at AssetMark, a Concord, Calif.-based TAMP, added that his firm provides access to a smaller, more hand-selected "shopping mall" of asset managers in comparison to the larger TAMPS. However, he says AssetMark continues to expand the number of firms on its platform and recognizes the critical role of third-party asset managers. See: 'AssetMark' rides again as a $20-billion TAMP with a receding Genworth hangover.
"We see advisors as being one of two things, relationship managers or investment-centric. Outsourcing investment management is critical for advisors to grow their businesses."
John Pileggi, managing partner of American Independence, a New York based strategist with over $1.5 billion in assets, advised other managers to look for "like mindedness and strategic fit" in considering distribution opportunities. Pileggi also cautioned the room "not to be too cost-sensitive. The best performing ETF modeled portfolios are not necessarily the ones with the lowest fees." See: Windhaven's success draws attention to emerging ETF managers.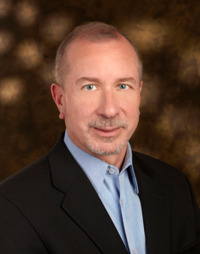 Dave Waluk: The industry debate over
active or passive management is tilting
noticeably towards passive.
Passive force
The advisor realm is a conference-rich environment. This conference stood out from the pack because ETF investment strategists are at the confluence of three critical trends that are changing the advisory landscape.
1. Advisors of all types — RIAs, independents, wealth managers, wirehouses and regionals — are embracing investment management outsourcing as a scalable way to grow their businesses.
2. The industry debate over active or passive management is tilting noticeably towards passive, index-based portfolio management. Value creation is being driven by allocation strategies not security selection and trading. See: Fidelity and BlackRock are cooking up a (de facto) de novo ETF company deep in the Rockies.
3. The well-touted characteristics of ETFs (low fees, transparency, liquidity, diversification, and easy access to global markets) are ideally suited to construct portfolios that meet investors' varied risk parameters and investment goals.
Early innings
It will be a few years before names like Good Harbor, Glovista, Riverfront, CLS Investment or Clark Capital are as well known as PIMCO or Putnam. But for now, the trend is their friend, and it is exciting to be on the sidelines of what will inevitably be a game changer within the asset management world.
Tom Lydon, president of Global Trends Investments and editor of ETFtrends.com, had this to say after the conference: "ETF Strategists are adding to the ETF evolution in a unique way. ETFs, with all of their inherent benefits, came out of the pure beta, legacy index world. No surprises and little excitement. They are today's investment tools that do exactly what they should do. The ETF strategists provide opinion, personality, conviction and investment strategies not offered in a single ETF wrapper. They guys will be the ultimate rock stars of the ETF business."
On the last day of the conference, I asked a dozen or so attendees the question — What inning do you think we are in with respect to the growth of ETF investment strategists? The median response was: bottom of the second.
Whether this plays out or not, ETF strategists are clearly in the game.
Disclosure: Dave Waluk has done consulting work for various companies mentioned in this article including BlackRock and iShares.
Dave Waluk, is a marketing consultant with Focused Momentum, a San Francisco-based consulting firm that works with leaders and leadership groups to strengthen their organization's ability to succeed. He has worked in the financial services sector for 15 years in various consulting and leadership roles, helping RIAs, independent broker dealers and financial technology companies achieve their goals.
---
Mentioned in this article:
Wealthfront
Portfolio Management System
Top Executive: Andy Rachleff
---
---
Share your thoughts and opinions with the author or other readers.
---