News, Vision & Voice for the Advisory Community
Schwab's chairman also gives an interesting window into his view of alternative investments
November 15, 2012 — 4:59 AM UTC by Lisa Shidler
A surprisingly upbeat Chuck Schwab said that even though taxes will most certainly go up for the rich in President Obama's second term, he is optimistic about his prospects as an investor.
The chairman and founder of Charles Schwab & Co. Inc., spoke Wednesday at Chicago's McCormick Place during the annual IMPACT conference, one of the largest gatherings of RIAs in the country.
Schwab is a longtime donor to the Republican Party and favors a low-tax fiscal approach but in his talk he didn't come across as someone whose team had just lost. Nor did he come across as a fiercely partisan conservative like in his talk at IMPACT last year in San Francisco. See: In a rare IMPACT appearance, Chuck Schwab predicts a 'significant turn' for the better.
Good time, bad times
"I've operated and made money on all of these different tax rates for decades," Schwab said. "In all of these environments you are able to make money, the return may just be slightly less. The opportunity to make money is there. I think we have to be careful not to be too depressed for the next few weeks. This is how it will be for the next four years. We can live with this. I'm pretty optimistic." See: Liz Ann Sonders: Markets may have to tank before lawmakers step back from the fiscal cliff.
Schwab added: "Life will go on. A person like me will have to write a larger check."
Schwab was part of a forum that included George Roberts, co-chairman and co-chief executive officer with KKR & Co. LP, and Scott Nuttall, head of the LBO firm's global capital and asset management group.
Enormous ideas
While there's no question that taxes will go up for rich individuals, Schwab said, RIAs can still offer up wealth-improving strategies for clients.
Despite the uncertainty in the economy, Schwab is confident in the resilience of the United States.
"The wealth of this country has grown enormously, and the last 10 years have been difficult but institutions have grown. We have enormous ideas, and all we need is the right ideas for clients," he said.
Schwab urged advisors to try to persuade clients to get out of the bond trenches and get back in the stock market. "We are coming out of a very difficult time period.
He also had some not unkind words for the Dodd-Frank Act.
"Some argue about the bad things with Dodd-Frank, but there are a lot of good things, and it's beginning to give people a sense of stability. We want to make sure we get through this crisis and not go [off] another deep cliff — maybe a teeny cliff."
Alternatives are a solution
Schwab urged advisors to consider the merits of alternatives for nervous clients. "The way I look at it, a lot has changed," he said. "The alternative investment world has really emerged as able to hire the best and brightest kids out of school. They're able to get you more alpha and a little more risk than traditional operations." See: Schwab leads effort to create industry wide solution for alternative assets.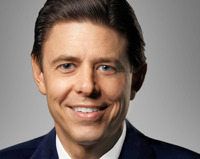 Scott Nuttall: Recession … can be
a very interesting time to get
quite a bit of money to
work.
Schwab said he invests anywhere from 10% to 20% of his own portfolio in alternative investments.
"That's money that's locked up a little longer, but I understand the risk that I'm accepting for higher returns," Schwab said.
Schwab also urged advisors to explore other alternatives such as private credit. "I think there's an opportunity in the private credit areas where we can enjoy some fat returns,' he said."There's such uncertainty, and there will be fantastic times for equities and credits." See: Walt Bettinger's comments on threats facing RIAs clinched success at Schwab's EXPLORE 2012.
Uncertainty
Rather than get squeamish during these tough times, George Roberts said, RIAs need to realize that these uncertain times make for excellent buying opportunities in the stock market. His company invests in a wide range of alternatives, including private credit, debt and public-entity financing. See: The top 10 alternatives to alternative investments.
"When you are in a period of uncertainty, those are the best times to invest," he said. "That was the feeling we had before the financial crisis. Everything we're going through now shows there's a lot of nervousness out there, and that means it's a pretty good time to invest in a lot of different markets."
Distressed team 'elated'
Nuttall said that there certainly is a chance that the economy could hit another recession next year, but rather than being depressed about it, his team of analysts who search for distressed opportunities are elated. "We may go into a recession, but if you invest in companies you know and like, it can be a very interesting time to get quite a bit of money to work. We're talking to our distressed team of analysts we call the 'grave dancers.' They're very excited about all of this."
---
---
Share your thoughts and opinions with the author or other readers.
---