News, Vision & Voice for the Advisory Community
How much of the $1.5 billion in assets Jonathan Stanley oversaw will follow him to Glenmede is up in the air due to U.S. Trust's 60-day policy and other factors
December 23, 2011 — 2:23 PM UTC by Lisa Shidler
Brooke's Note: There is hardly a moment — even when not a creature is stirring — when the talent of the bank/brokerage world isn't redeploying itself in the RIA world, regardless of the legal hoops or inconveniences. This is just another tiny chapter in this growing volume of breakaway tales and significant in its own right.
Philadelphia-based Glenmede added manpower to its New York office by grabbing industry veteran Jonathan Stanley, who oversaw $1.5 billion in assets for U.S. Trust, Bank of America Private Wealth Management.
Stanley will serve as senior portfolio manager for the $20-billion Glenmede, which wants to bolster its New York office.
Stanley joins Glenmede with more than two decades of investment management expertise. Until recently, he served as a managing director at U.S. Trust.
"There has been an exceptional response to our New York office, which has resulted in significant client demand," Chip Wilson, executive director of relationship management at Glenmede, said in a statement. "It is gratifying to have a professional of Jon's stature on our team, contributing to New York's ongoing success."
Assets in motion
However, the question of how many assets will be transferred is a big issue.
U.S. Trust advisors typically bring about 20% to 25% of assets to their new firms, says industry recruiter Mindy Diamond. There are a number of reasons why U.S. Trust advisors don't often bring a high percentage of assets with them, one of them being that many of the assets are in trusts and therefore not easily transferred.
Glenmede declined to comment beyond its press release and it did not respond to questions regarding how many assets Stanley has snagged for the company. According to its website, Glenmede was founded in 1956 by the Pew family and accepts accounts of $3 million or larger. It keeps a 6-to-1 client-to-employee ratio and has 1,700 clients. By extrapolation, it has more than 280 employees at its offices in Philadelphia, New York, Wilmington, Del., Cleveland, and Morristown and Princeton, N.J.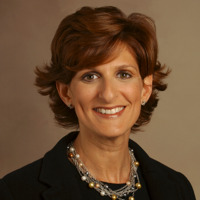 Mindy Diamond: Advisors are afraid of
the legal hassle and they're also
afraid to be out of the
business for a while.
Garden leave makes it sticky
In addition, U.S. Trust has a "garden leave" program which has gained national attention because the company seeks 60-day notice from advisors before they leave. See: A Goldman Sachs advisor breaks away, sits out for 90 days and builds a $1-billion-plus RIA.
During the garden leave employees still get paid but can't contact clients. They may also lose some benefits and incentives. See: Bank of America throws a legal wrench at big wealth management start-up.
"This scares advisors and other firms," Diamond says. "Advisors are afraid of the legal hassle and they're also afraid to be out of the business for a while."
As a private bank, U.S. Trust is neither a wirehouse nor other brokerage and thus would not be party to the broker protocol that legally guides most big breakaways.
Frustration at U.S. Trust?
Diamond predicts that more advisors will be leaving U.S. Trust because they are frustrated with a change in culture at the firm. "The advisors are really feeling it's a bank mentality and not client-centric. Overall, they're not a happy lot."
The strict departure provisions have important purposes, according to a U.S. Trust statement provided for this article.
"As a leading private bank, the protection of client privacy, the confidentiality of proprietary information and the safeguarding of client interests is among our highest priorities. With other firms adopting more stringent policies — especially with regard to employee departures and the subsequent protection of client information — the leadership team at U.S. Trust strengthened its own policies. Our clients' trust that we are doing everything possible and necessary to protect their proprietary information and interests." See: U.S. Trust seeks to add hundreds of wealth managers with West Coast-facing poaching campaign.
---
Mentioned in this article:
---
---
Share your thoughts and opinions with the author or other readers.
---